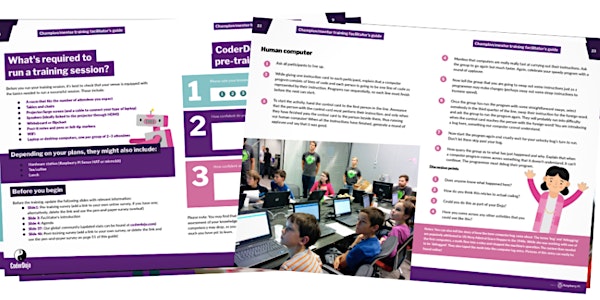 Webinar: How you can train new mentors
Description
Would you like to have some training for mentors, parents and new champions?
This webinar is an overview of good practice on using the Train the Champion Facilitators Guide.
This guide is intended as a training tool to support any CoderDojo community member who is interested in inspiring others to start Dojos, recruiting new mentors or volunteers, or getting parents involved.
On the webinar, we will share how to use this guide to facilitate training sessions in your Dojo, local community centre, library, school, or business.
We will also talk about how to use this guide to train your existing mentors/volunteers and support them to feel confident about inspiring young people at your Dojo to get creative with technology.
The guide includes:
Introduction to CoderDojo

Unplugged activities and 'what is coding?'

Introduction to Scratch

CoderDojo and young people

Introduction to web development

Starting a Dojo
The techniques, exercises, and activities in the guide are tried and tested. We've collected feedback from participants from diverse backgrounds and with different levels of skill, and integrated their suggestions in order to provide the community with the best possible training materials.
Check out this video to see what a training session looks like in action in advance of the call.
If you haven't downloaded the guide, you can do so here https://www.surveymonkey.com/r/FacilitatorsGuide
We will send you the webinar link closer to the date with all the info you need. You can ask any question you like on the call on chat or in advance using the form.
Looking forward to connecting with you!