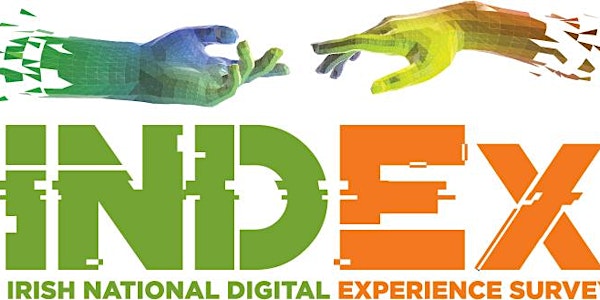 Webinar on "The INDEx Survey: A Challenging and Rewarding Journey "
Implementing the Irish National Digital Experience (INDEx) Survey: A Challenging and Rewarding Journey webinar runs on 25 November 2020.
About this event
This webinar will describe the rationale, planning, implementation and key results of the Irish National Digital Experience (INDEx) Survey and, building on this, explore the potential for further collaboration across European networks. The event is designed for anyone interested in the INDEx Survey process overall, particularly those considering running a similar survey in their own country or region, and for those working towards strengthening cooperation and exchange in digital education at EU level (as outlined in the Digital Education Action Plan 2021-2027, Action 14).
Participants will have an opportunity to engage directly with Ireland's National Forum for the Enhancement of Teaching and Learning in Higher Education, co-ordinators of the INDEx Survey, and with representatives from European networks who will discuss the collaboration potential for European networks.
Panel speakers:
Terry Maguire, National Forum Director
Catherine Cronin, National Forum Strategic Education Developer
Oliver Janoschka (panel chair), Hochschulforum Digitaliserung (HFD) Managing Director
Florian Rampelt, Hochschulforum Digitaliserung (HFD) Deputy Managing Director
Georgi Dimitrov, European Commission Deputy Head of Unit Innovation and EIT
Christien Bok, Innovation Manager, Education at SURF, Holland.
INDEx Survey:
24,484 students and 4,445 staff who teach at 32 higher education institutions in Ireland completed the INDEx Survey which set out to explore and capture the digital experiences of students and staff who teach, highlighting what makes a difference to them and providing an evidence base to inform future decision-making and enhancement of teaching and learning in Irish higher education. The survey was a success, and indeed made possible, due to focused, national, collaborative efforts. In this webinar, National Forum staff will describe the process of collaboration and partnership behind the results, conclusions and key learnings that were published earlier this year in the INDEx Survey Findings Report. This event coincides with the recent publication of the National Forum briefing paper on the INDEx Survey process Implementing the Irish National Digital Experience (INDEx) Survey: A Challenging and Rewarding Journey.
Panel Speakers:
Dr Terry Maguire is an Irish educator and senior manager who is actively committed to how teaching and learning can transform individual lives. Having spent a number of years working in Higher Education in Scotland where she pioneered flexible and blended approaches to teaching and learning, Terry was appointed as Head of Lifelong Learning in Institute of Technology Tallaght in 2006. Since 2013, Terry has led the development of the National Forum for the Enhancement of Teaching and Learning in Higher Education as an essential component of the national-level infrastructure for higher education in Ireland.
Dr Catherine Cronin is Strategic Education Developer at the National Forum where her work focuses on digital and open education, spanning both practice and policy. Since 2019, Catherine has led the National Forum coordination of the INDEx Survey, including publication of the national findings in May 2020 and ongoing analysis. In her role, Catherine supports critical approaches to digital and open teaching and learning through consultation across the Irish higher education sector. Her recent publications include Open education: Walking a critical path and Open at the margins: Critical perspectives on open education.
Oliver Janoschka has been Managing Director of the Hochschulforum Digitaliserung (HFD) since its foundation in 2014. On behalf of the Federal Ministry of Education and Research, he coordinates the work of more than 70 experts in six thematic groups on how to shape the digital future of German higher education. Previously, he managed European university projects for the EUCEN university network from Barcelona and Brussels. Oliver Janoschka studied educational sciences, sociology and psychology at the University of Hamburg.
Dr Georgi Dimitrov joined the European Commission, Directorate General for Education and Culture, as a Policy Officer in 2008. He was involved in various roles in setting up the European Institute of Innovation and Technology (EIT). Georgi has managed the HEInnovate initiative launched by the European Commission and the OECD, before moving to a role of a policy assistant to senior management. He then led the development of the first Digital Education Action Plan 2018-2020 and is in charge of the development and implementation of the new Digital Education Action Plan 2021-2027. Georgi studied at the University of Bonn (M.A.), the University of Erlangen-Nürnberg (PhD) and the Open University UK (MBA).
Florian Rampelt is Deputy Managing Director of Hochschulforum Digitalisierung (HFD) and Project Lead of AI Campus at Stifterverband in Berlin. Together with the German Research Center for Artificial Intelligence (DFKI), NECOSMO, the mmb Institute and the Hasso-Plattner-Institute, he is developing the AI Campus as an digital learning platform on artificial intelligence. At Hochschulforum Digitalisierung he is responsible, among other areas, for peer-to-peer consulting on strategies for higher education in the digital age and international activities of HFD such as the European initiative "Bologna Digital". Previously, he was Director of Education at the non-profit start-up Kiron Open Higher Education. Florian Rampelt studied political science, European studies, teaching at secondary schools and education at the University of Passau. After his studies he worked as a research assistant at the Centre for Teacher Training at the University of Passau.
Christien Bok is Innovation Manager, Education at SURF, the Netherlands' collaborative organisation for higher education institutions and research institutes aimed at breakthrough innovations in ICT, since 2006. Christien is a visionary professional with broad expertise on technological developments in higher education. She has been involved in programmes on personalized learning, flexible education, digital learning materials and learning analytics. She is currently involved in the national debate on how to ensure public values in higher education.
In SURF, Dutch education and research institutions work together on ICT facilities and innovation in order to make full use of the opportunities offered by digitisation.
Please note this event will run from 12.00 to 13.00 hours (Irish time) on Wednesday 25 November 2020. All are welcome to participate.