About this Event
Learning has been a top priority for CEO's during Covid-19 as businesses continue to feel the economic impact of the global pandemic.
94% of L&D professionals report having to change their L&D strategy in response to the COVID-19 pandemic.
Covd-19 has accelerated the digital transformation of the workplace. Is yours ready?
Join the Webinar to Learn
The Impact of the pandemic on L&D
How Covid-19 has accelerated the transformation of learning
Why People Analytics are more important than ever
The L&D digital revolution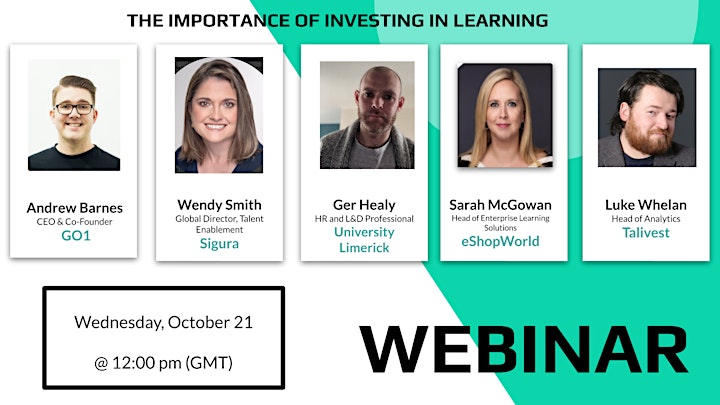 Speakers
Andrew Barnes | CEO & Co Founder, GO1
Andrew co-founded Go1 in 2015. He has a passion for education and a belief that technology can help create new opportunities for learning. Andrew is a Rhodes Scholar, and completed an MSc in Education at Oxford University before going on to complete his PhD at the University of Queensland. As CEO he sets strategy and direction for the company, and enjoys working closely with customers and partners to help organisations and individuals unlock new opportunities through learning.
Wendy Smith | Global Director Talent Enablement, Sigura
Wendy is an award-winning HR Professional with a passion for creating workplace experiences and high performing cultures where employees can thrive. She is the Co-Creator of 5 Star Employee Experience Model featured on Forbes. Currently, Wendy heads up Talent Enablement and is responsible for Performance Management, Org Design, Learning, Culture & Employer Brand, HRIS, Diversity & Inclusion and Employee Experience.
Sarah McGowan | Head of Enterprise Learning Solutions, eShopWorld
Sarah has a Masters in eLearning Design & Development, and has specialised in online design and delivery across synchronous and asynchronous platforms, as well as large development programmes for internal and external stakeholders. Sarah currently Heads up Enterprise Learning Solutions for eShopWorld.
Ger Healy | HR and L&D Professional, University Limerick
Ger Healy is an experienced HR and L&D professional and has held a number of L&D roles within telecoms and financial services sectors. He has also spent time working as a career coach with those who are long term unemployed, and as a consultant to organisations, helping them to tackle their talent management challenges. Ger is now working within the University of Limerick.
Luke Whelan | Head of People Analytics, Talivest
Luke is a Key Note Speaker and Thought Leader in the world of data science and analytics. Within Talivest, Luke leads the analytics function and product innovation. He has expertise in AI, machine learning and predictive analytics.