Webinar: The Public Sector's role in Developing 4th Generation District Hea...
Description
REGISTER NOW TO SECURE YOUR PLACE!
---
Dublin's Energy Agency Codema is pleased to invite you to our free upcoming webinar to explore the important role of the Public Sector in developing district heating across Ireland.
Ireland currently ranks as one of the lowest countries in Europe for generating renewable heat, and yet there is currently enough excess heat in Ireland to meet more than 30% of our heating demands, and this figure is growing with increased industrial activity. We know that district heating is the only practical way of making use of this indigenous resource and offers a viable, low-carbon solution to Ireland's heating sector.
In order for district heating schemes to become widespread, the involvement of Public Sector bodies is crucial, but they need to know where to start in implementing a district heating scheme and the key planning, financial and technological considerations they must take into account.
This webinar is therefore a must for all public sector staff working in areas such as planning, architecture, climate change, engineering, facilities management, finance and procurement, as it will explain the benefits and opportunities in developing district heating schemes, detail the current scenario in Ireland in terms of policy and legislation, and explore the current challenges that we need to overcome to make district heating a mainstream, low-carbon heating solution for our homes and businesses.
It is also a great opportunity for those working in the energy, commercial and construction sectors to gain an insight into the emerging district heating market in Ireland and to gain an understanding of the role they might play in future public or public-private schemes.
TOPICS WILL INCLUDE
What is district heating ?
Benefits of 4th Generation District Heating (4DHDC)
Why district heating is needed across Ireland
Current barriers and challenges for implementing district heating schemes
Why Public Sector involvement is so important
Setting out a roadmap for the public sector:
How do I know my town / region is suitable for district heating?
Planning, economic and technological considerations
The latest on emerging public district heating schemes in Dublin
This webinar is being delivered by the Dublin Energy Agency Codema, as part of the HeatNet NWE project, which is part-funded by the Interreg North-West Europe programme.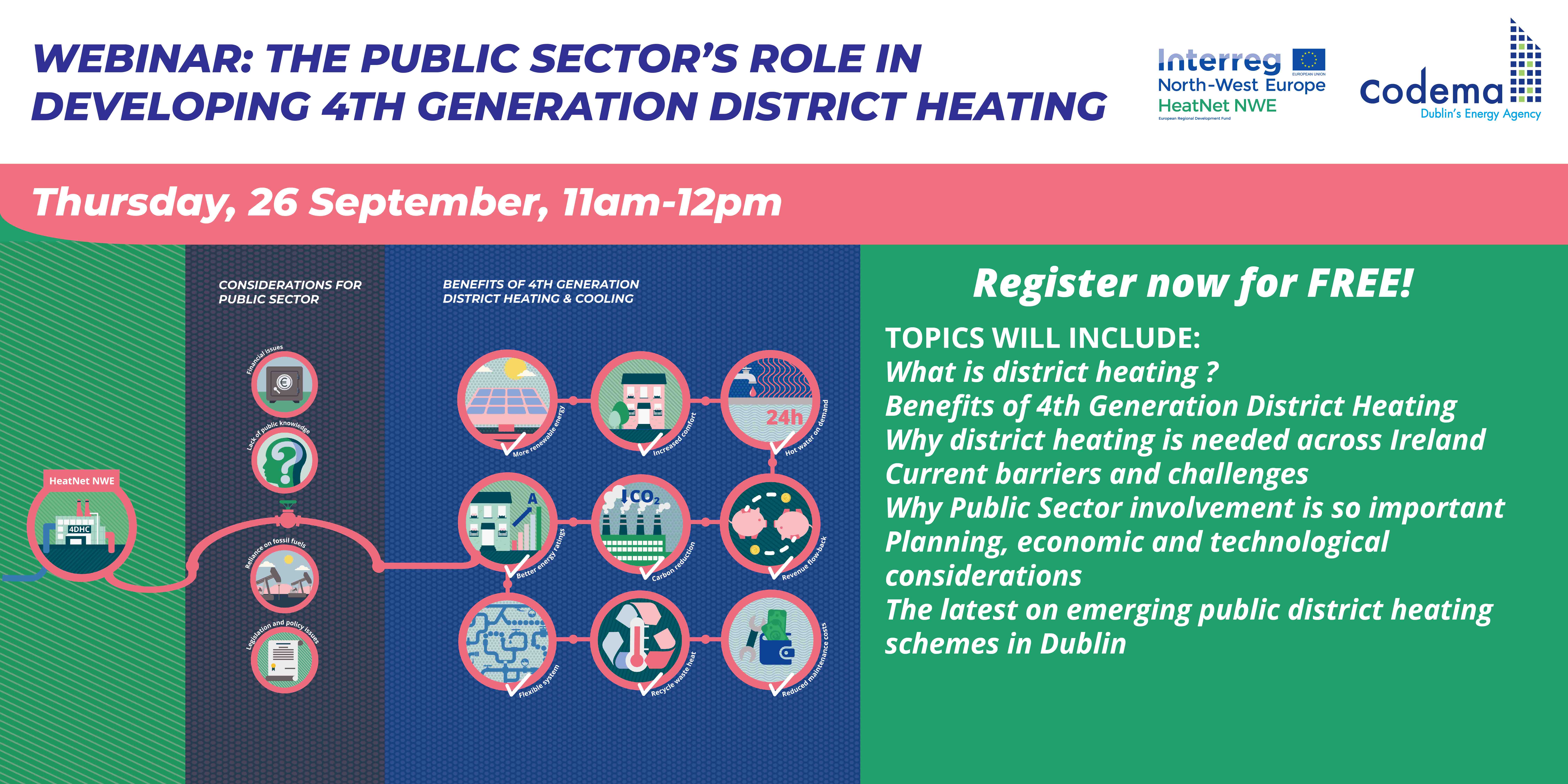 About your Hosts
Donna Gartland is Senior Energy Planner at the Dublin Energy Agency Codema and CEO of the recently-established Irish District Energy Association. Donna is one of Ireland's leading experts in district heating and energy planning. She is a qualified electrician with a BEng in Energy and Environmental Engineering from the Institute of Technology Tallaght and a MSc in Sustainable Energy Planning and Management from Aalborg University, Denmark. She is currently completing a PhD in Energy Engineering with University College Cork. Donna developed the first Spatial Energy Demand Analyses (SEDAs) in Ireland for all four Dublin Local Authorities in order to integrate energy and spatial planning at a local level. Donna is also Technical Advisor on the EU Interreg NWE project 'HeatNet' and is playing a key role in implementing Ireland's first large-scale district heating systems with Dublin City Council and South Dublin County Councils. Most recently, Donna helped to secure almost €25m in funding for these projects through the Irish Government's Climate Action Fund.
John O'Shea is Codema's Energy Systems Analyst and is responsible for carrying out techno-economic and cost-benefit analyses of large-scale energy systems, such as district heating, CHP units and utility-scale solar PV. John is closely involved in the development of both the Dublin District Heating System in the Docklands, and the Tallaght District Heating Scheme. Prior to joining Codema, John spent over three years working in the district energy sector with Ramboll in their UK Headquarters in London and developed specialist knowledge in the areas of EfW, WSHP, biomass, solar and CHP-supplied district heating networks. Most recently, John has completed the Transition Roadmap for Developing District Heating in South Dublin, as part of the HeatNet NWE project. John holds a Post-Graduate Diploma in Sustainable Energy from University College Cork, and a BEng in Civil Engineering from IT Carlow. He is also a CIBSE certified Heat Networks Consultant and a qualified Domestic BER Assessor.
For further info, please visit www.codema.ie