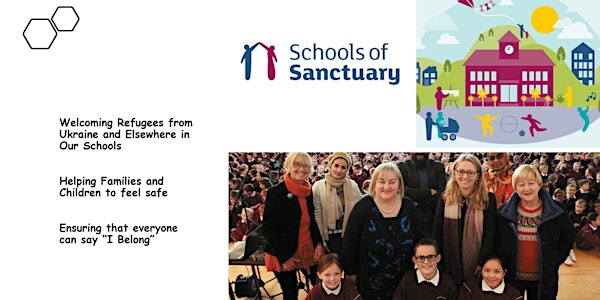 Webinar: Welcoming Refugees from Ukraine and Elsewhere in Our Schools
Webinar: Welcoming Refugees from Ukraine and Elsewhere in Our Schools 23rd March 2022, 10:30 -11:30 am on zoom.
About this event
The registration is closed now. If you would like us to share the recording with you, please email us at schools@ireland.cityofsanctuary.org
WELCOMING REFUGEES FROM UKRAINE AND ELSEWHERE IN OUR SCHOOLS
Refugees from Ukraine are arriving daily into Ireland and into our schools.
Schools of Sanctuary Ireland is a network of teachers, schools, refugees and communities across Ireland, with a shared aim of helping our schools to welcome, understand and include refugees. We want to share our expertise and insights with schools that are preparing to welcome Ukrainians, so that families who have experienced trauma and upheaval can feel safe, welcomed and belonging in our schools and communities.
Schools are invited to register for a special webinar to help schools to prepare.
Wednesday 23rd March, 10.30am - 11.30am
This is a webinar that is intended to help schools receiving refugees from Ukraine and other places.
It includes an introduction to the basics of sanctuary and welcome - learning about the newcomers arriving, taking appropriate actions to ensure a good welcome, and sharing the learning.
The resource as an introduction, is not comprehensive but can be followed up with deeper information available on the links we have shared and elsewhere.
Teachers in Schools of Sanctuary have long experience of welcoming refugees from conflict zones, and are happy to help other schools by sharing their experience and knowledge.