Wedding Venue Show at Rock Farm Slane April 2015

Sunday, 12 April 2015 from 10:30 to 16:30
Event Details
"Ever dreamt of a magical woodland setting for your wedding day – Surrounded by nature and the ones you love? "
Picture yourself here at Rock Farm Slane Botique Campsite, a magical wooded grove, nestled above the banks of the River Boyne where ancient Ireland draws you in and reminds you of all that is to be celebrated in this land. Be at one with nature celebrating love with the ground beneath your feet and the touch of pure fresh air ….as you promise yourself to the one you love….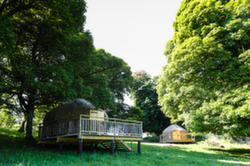 Book your Wedding Viewing Appointment

By appointment only a member of our events team will take you on a tour of all that we have to offer here at Rock Farm Slane.  A truly unique venue suiting those looking for that something different.
Your appointment slot must be pre-booked and places are strictly limited.  The tour will take approximately 30mins.
Book your Wedding/Events Director One to one Appointment
As part of the tour you may also book a one to one appointment with our Events Director to discuss your plans. This is an opportunity to have a one to one, review availability and discuss packages together.
Please select this ticket options when booking in for the tour.  These are allocated on arrival and again must be pre booked to avoid dissapointment.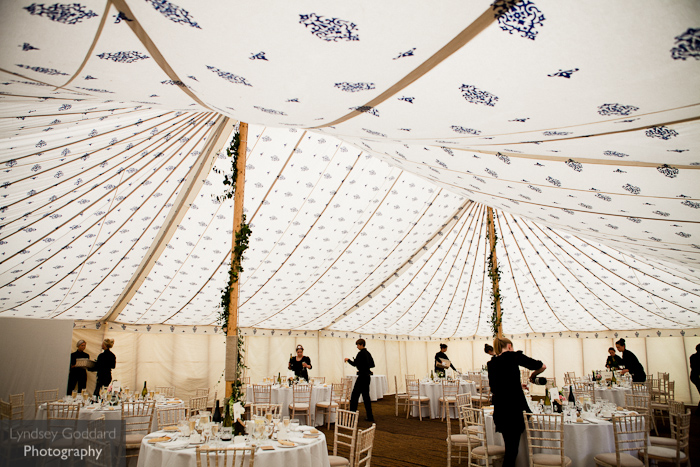 About us
Rock Farm Slane is a ground-breaking newcomer to hospitality, an elegant and luxurious campsite; away from the box room, telly and the coat hangers you can't get off the rails, and back to wood fires, sitting on your balcony listening to birdsong as you breakfast… You may even spot a leaping hare.
The Ceremony
Our unique offering at Rock Farm Slane combines a high-end service in beautiful natural surroundings. Our stunning pavilion tents provided by LPM Bohemia create the perfect space for entertaining and celebrating your big day. We can accommodate small groups up to large scale 200+ guests on the day.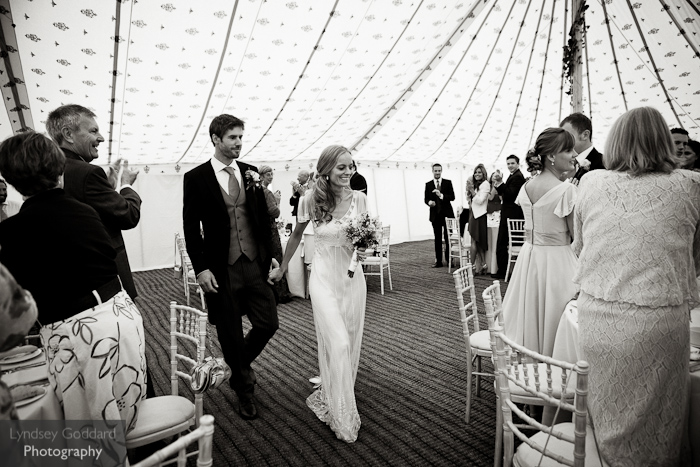 You may choose to have your wedding ceremony in one of the local Churches in nearby Slane Village or perhaps you are looking to host a humanist or shamanic celebration onsite. Either way we can provide you with an experienced venue-based coordinator to guide you through the process, celebrants and other specialist services such as wedding coordinator, catering, flowers, hair and beauty. Couples looking to host a civil ceremony/civil partnership at Rock Farm Slane would need to contact Meath County Council Registrar directly for pre-authorisation for approval of venue.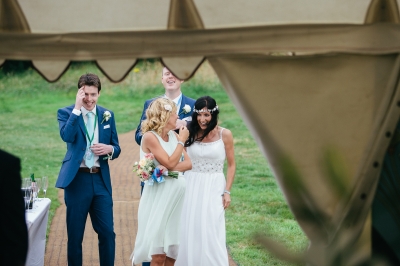 Catering Services
Rock Farm Slane works with a short list of chosen caterers who know the site and are able to offer a range of different catering services for your special day:
Honeydew Events is owned and operated by Natasha Smith
She has over a decade of restaurant management experience all over the world before setting up Honeydew Events as a sister company to the Kildare Kitchen in 2007. Honeydew can take on as much or as little of the organising as you want. If you are overseas and arrive back the day before, it will all be ready. If you simply want to have someone standing by as you create your perfect day Natasha can be there as a sounding board for your ideas, turning them into reality.
"I just love parties! I love talking with people and helping them to realise their vision, and subsequently all the events I have been involved with have been so much fun. I have learnt what works and what doesn't, who does the best marquees, flowers, photographs, etc."
Slane Food Circle
If you're looking for an alternative festival catering, we can recommend the Slane Food Circle trailer which includes a meat grill, salad bar, cheese, ice cream and other fresh local produce from this unique cooperative of local producers. Rock Farm Slane is a proud member of the Slane Food Circle providing fresh organic pork, beef, salad and vegetables in season. More information on the Slane Food Circle is available through the Rock Farm Slane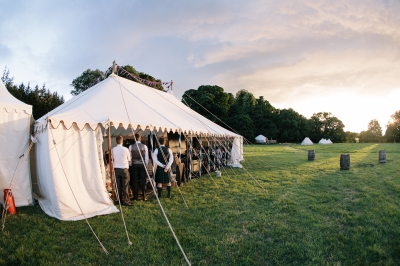 Bridal Party Accommodation
As a leading eco-tourism destination Rock Farm Slane specialises in mixed guest and bridal accommodation. The star attraction is the luxury campsite which can sleep up to 28 people sharing. From 2015, there will also be a 6-bedroomed eco-guesthouse (The Lime House) built by the Mount Charles's to offer the best in luxury eco guesthouse accommodation. 2015 also marks the launch of a new bridal offering in the Swallow's Nest on the secluded House Field overlooking untouched Meath farm and woodlands perfect for love birds.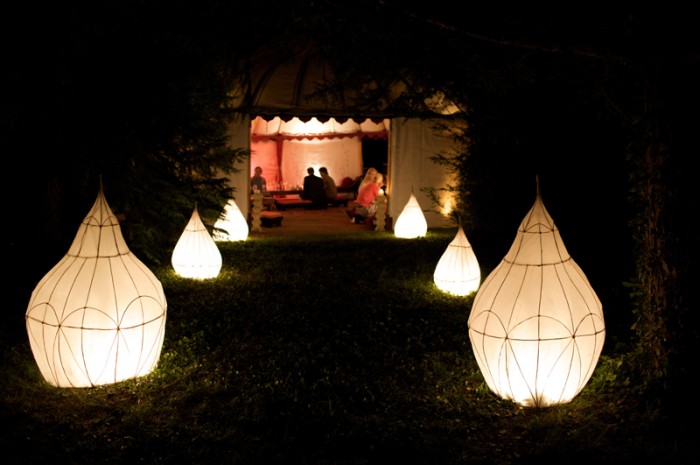 The Lime House Eco-guesthouse
The Lime House is based at the heart of Rock Farm Slane in an historic farmyard beside a restored lime kiln. This guesthouse boasts comfortable family accommodation in a natural building constructed with materials from the land (barley straw, clay and lime) and uses state of the art heating technology to provide you with excellent facilities. See how environmental design can work closely with the landscape and farms to provide comfortable healthy accommodation while protecting the surrounding landscape. The guesthouse will suit those members of the bridal party who are looking for quiet surroundings away from the celebrations.
2015 New Bridal Accommodation
Rock Farm Slane is proud to announce the opening of the Swallow's Nest a unique naturally-built cabin built out of strawbales, finished in natural clay paints with a green roof and a custom-made bridal suite. This studio offers a secluded spot for the bridal couple to celebrate their first night together as a married couple.
Our Bridal Suite – 'The Swallow's Nest' is the perfect honeymoon hide-away for you both to relax in after your wedding day. This unique hand-made Strawbale Condo offers a cosy and romantic setting with views across the land. The wood-burning stove and soft furnishings will create a romantic cocoon for you both to enjoy. Plus – you even have your own WOODBURNING HOT TUB to relax and unwind in… perfect for star gazing with a glass of something bubbly before you turn in for the night.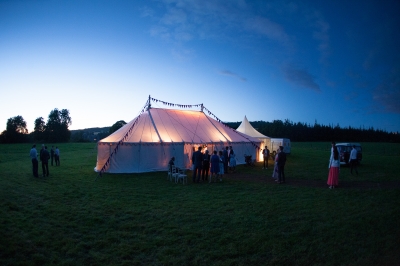 Luxury Glamping at Rock Farm Slane
The accommodation at Rock Farm Slane provides the bridal party with a luxurious boutique camping experience staying in beautifully hand-made nomadic Yurts or cosy Shepherd Huts. We are also delighted to offer large parties use of Bell Tents – ensuring the whole party stay together one site is all part of sharing your day and keeping everyone close.
Guest Facilities
Aside from timeless nomadic dwellings in the form of yurts and shepherd huts which are furnished with warm, comfortable beds dressed in crisp, fresh linen and down or wool pillows. Rock Farm boasts piping hot showers from a wood stove, luxurious natural soaps and a naturally furnished communal space where you can kick back or party, taste fresh local produce, cook on the BBQ and relax in style.
Why Choose Rock Farm Slane for your wedding day?
This inspiring destination is situated within 45 minutes of central Dublin and less than an hour and a half from Belfast.
When & Where

Rock Farm Slane

Slane
Ireland


Sunday, 12 April 2015 from 10:30 to 16:30
Add to my calendar