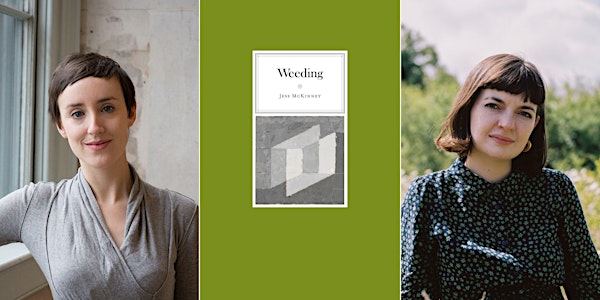 Weeding: Irish Launch
Join us for the Irish launch of 'Weeding' with Jess Mc Kinney and special guest Jessica Traynor at Books Upstairs.
When and where
Location
Books Upstairs 17 D'Olier Street Dublin 2 Ireland
About this event
Join us for an evening of conversation and poetry at the Irish launch of Jess Mc Kinney's debut poetry pamphlet 'Weeding', featuring special guest Jessica Traynor.
About Weeding
In a letter in the summer of 1802, Samuel Taylor Coleridge wrote, "Nature has her proper interest, and [s]he will know what it is, who believes and feels, that everything has a life of its own, and that we are all one life." Jess McKinney's debut pamphlet Weeding weaves together human experience and the natural world: the joints, threads and meeting points 'like the internet of fungus connecting the Douglas fir and paper birch'. The poems speak with an old soul, as if through our female ancestors, wise women interpreting plant-lore, herbalism, potion, omens, dreams, myth – and yet feel utterly alive, witty, close, new – turning through murmurations, swifts, wych elm, fern and deer, to colour theory, artists and photographers.
Shifting from the back fields of Inishowen, through to the inner-city streets of Belfast and Dublin, her work binds superstitions and love letters out of long grass.
Jess Mc Kinney is a poet from Inishowen, Donegal. In 2020 she completed her MA in Poetry at Queen's University Belfast, where she was awarded the Irish Chair of Poetry Student Award. Her poetry has appeared in The Moth, The Stinging Fly, Banshee, SAND Journal, Channel Magazine, Abridged, The Poetry Jukebox and the New Island anthology The New Frontier: Writing from the Irish Border. Her debut pamphlet 'Weeding' was published with Hazel Press in September 2021, and shortlisted for the Patrick Kavanagh Poetry Award.
Jessica Traynor's debut collection, Liffey Swim (Dedalus Press, 2014), was named one of the best poetry debuts of the past five years on Bustle.com. Her second collection, The Quick, was a 2019 Irish Times poetry choice. Paper Boat, an opera commissioned by Galway 2020, will premiere in 2022. Essays have appeared in The Dublin Review, Banshee, and Tolka. She is the Yeats Society Sligo writer in residence and a Creative Fellow of UCD. Her third collection, Pit Lullabies, is forthcoming from Bloodaxe Books in 2022.
Jess McKinney's vision nudges us a little closer to the feral side of life. Immerse yourself in Weeding's vital wildness." – Jessica Traynor, author of The Quick & Liffey Swim
"These exquisite poems unfurl slow and green as ferns, each line opening its own lush wonders. Extraordinary." – Doireann Ní Ghríofa, author of A Ghost in the Throat
"Playful, tender, and dreamlike, Jess McKinney's poems shimmer on the page. Imparting quiet confidences, these romantic, iridescent lyrics touch the natural world, and the world of the erotic body, and find a kinship both sustaining and precious." – Seán Hewitt, author of Tongues of Fire
"I love Jessica's collection so, so much. I think it is exquisite. It dances like light on stone. It sings us back to the very beginning of oh so much we thought we had lost along the way. A love letter to the colour green; an inventory of all that is beautiful in this world; an unfurling & unearthing; a gathering of light in all its forms. Swifts and swallows; love and longing; circles and lines: this collection will enter your dreams and sing you back awake." – Kerri ní Dochartaigh, author of Thin Places
Venue Note
Covid certs or proof of vaccination will be required on entry, and mask-wearing necessary in store.
Doors at 6pm, including refreshments and a chance to browse the shelves, with the conversation beginning at 6.30pm.