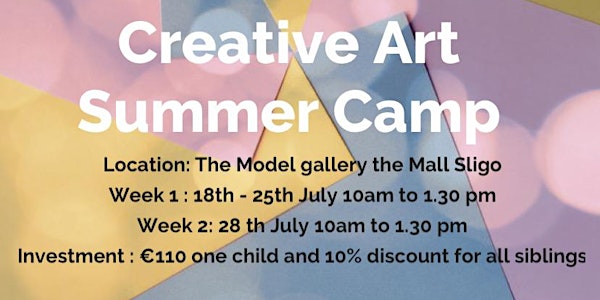 Week 2 Children's Creative Arts Camp
Creative Arts Camp @ The Model Sligo. Investment : €110 per child
When and where
Location
the model gallery sligo the model gallery sligo sligo Ireland
About this event
Childrens Creative Arts Camp Summer Camp.@ The Model Sligo.
Investment : €110 per child and10% off + sibling/s
Our summer themed Children s Creative Art Camp will create a space for imagination, playfulness, learning and being. Exploring and encouraging children creative Arts practice and creativity through screenprintimg construction, storytelling, painting natural dying and looking at nature for inspiration and fun. Children will enjoy a nurturing, supportive and non-competitive environment in which to explore. They will be encourged though creative expression and a wide variety of art materials, learn mindfulness, self calming and relaxation techniques through Art while making new friends.
TERMS • Only children from the same family ie siblings can be booked online at any one time. • The Family Discount only applies to siblings. • Full payment is taken on first day of camp if already not done so online. Your payment is your acceptance of the Terms & Conditions below: Terms And Conditions Creative Arts Camp is open to children between the ages of 4 to 12. Due to Covid19 Camp drop off and collection times are varied 9.45/10.00am & 1.30pm to 1.45pm.. Cancellations made up to 10 days before the camp begins will receive a 50% refund. No refunds will be given for cancellations received less than 10 days before the camp. There is a €/£10 charge for any changes made to an original booking. Deposits of €20 per child are non refundable. Creative Arts Camp reserves the right to make date/venue changes if necessary. Creative Arts Camp will operate to the highest safety standards. In consideration of the acceptance of above named student in Creative Arts Camp the applicant agrees that Creative Arts Camp and / or their employees will not be held responsible for any accidents or loss of personal property, however caused. Any participant whose conduct is deemed by the camp manager to be detrimental to the best interest of the programme will be dismissed-no refund will be made. The use of mobile phones is not permitted during camp. Creative Arts Camp reserve the right to modify or delete any activity in the event of unforeseen circumstances. Places are allocated on first come first served basis. Permission is granted to seek medical treatment in the event of an accident. Payment is regarded as acceptance of the booking conditions. Photographs/Videos may be taken for promotional use. ALLERGIES: NO NUTS PLEASE AT CAMP Covid 19: • Parental Access: Parents/guardians are not permitted to enter the camp venue unannounced at any time during the camp day. If they must return to the camp venue during the day, they must first phone to arrange this. • Personal Belongings: We will require all personal belongings to be labeled, including water bottles, lunch boxes and bags. Any parent, child or staff member who is displaying symptoms of Covid-19 prior to camp or outside of camp hours should not attend. • Extra practices for health and safety are now necessary to keep us all safe and well, but we aim to integrate these practices into the fun, engaging and exciting experience that we will continue to deliver at our summer camps. • Parents must inform Creative Arts Camp immediately if you have identified any Covid19 symptoms in your child. • Hand Sanitizer will be provided at each camp. We request that each child attends camp with their own hand sanitizer for personal use during the week. • Anyone showing symptoms of Covid19 prior to or outside of camp hours should not attend Creative Arts Camp. • If a Leader or child on camp is displaying symptoms our staff will follow protocol to ensure the safe isolation of the person until it is possible for them to go home. Creative Arts Camp will complete an incident report and comply with all HSE contact tracing guidelines. Please note: All personal data held by Creative Arts Camp is used solely for the purpose stated. It is our strict policy not to pass personal details on to third parties. This is in accordance with the Data Protection Acts Ireland.