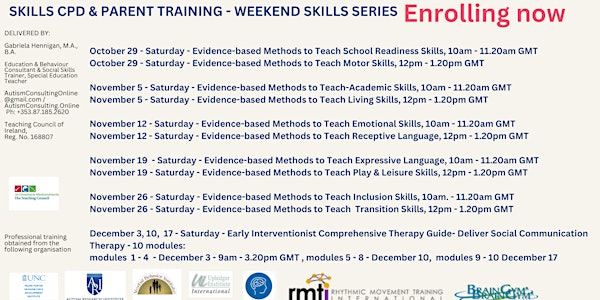 Weekend CPD & Parent SKILLS series Evidence-based Methods to Teach SKILLS
The weekend series of 11 SKILLS CPD & Parent Courses is aimed at using some evidence-based methods with special needs learners 0-22 y.o.
Refund Policy
Contact the organizer to request a refund.
About this event
The CPD SKILLS courses are for pre-school, primary, post-primary, special school teachers, special needs assistants, parents, professionals working in health service, charities, the early intervention team and all involved in care and support of individuals with special educational needs - mainly autism and related conditions.
Please review the registration options: Standard, Premium, Professional and each SKILLS course content on on our website: AutismConsulting.Online. Register directly from our website.
If you need a CPD course certificate for your work, please order it separately via email to : AutismConsultingOnline@gmail.com
Enrolling now in weekend SKIlLS courses
​WEEKEND SCHEDULE- October - December 2022
October 29 - Saturday - Evidence-based Methods to Teach School Readiness Skills, 10am - 11.20am GMT
October 29 - Saturday - Evidence-based Methods to Teach Motor Skills, 12pm - 1.20pm GMT
November 5 - Saturday - Evidence-based Methods to Teach-Academic Skills, 1Oam - 11.20am GMT
November 5 - Saturday - Evidence-based Methods to Teach Living Skills, 12pm - 1.20pm GMT
November 12 - Saturday - Evidence-based Methods to Teach Emotional Skills, 10am - 11.20am GMT
November 12 - Saturday - Evidence-based Methods to Teach Receptive Language, 12pm - 1.20pm GMT
November 19 - Saturday - Evidence-based Methods to Teach Expressive Language, 10am - 11.20am GMT
November 19 - Saturday - Evidence-based Methods to Teach Play & Leisure Skills, 12pm - 1.20pm GMT
November 26 - Saturday - Evidence-based Methods to Teach Inclusion Skills, 10am. - 11.20am GMT
November 26 - Saturday - Evidence-based Methods to Teach Transition Skills, 12pm - 1.20pm GMT
​
December 3 - Saturday - Early Interventionist Comprehensive Therapy Guide- Deliver Social Communication Therapy as Early Intervention - 10 modules: modules 1-4 - 9am - 3.20pm GMT
December 10 - Saturday - Early Interventionist Comprehensive Therapy Guide- Deliver Social Communication Therapy as Early Intervention - 10 modules: modules 5-8 - 9am - 3.20pm GMT
December 17 - Saturday - Early Interventionist Comprehensive Therapy Guide- Deliver Social Communication Therapy as Early Intervention - 10 modules: modules 9-10 - 9am - 10.20am / 10.30am - 11.50am