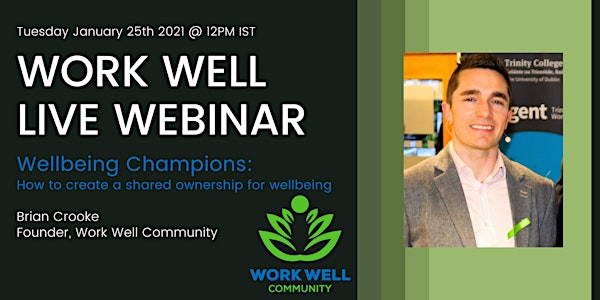 Wellbeing Champions - How to Create a Shared Ownership for Wellbeing
The Work Well Community is a network of people working to promote health and wellbeing at work.
About this event
'Peers can have a powerful influence on health behaviors and outcomes. The social support provided by individuals has the potential to improve the health and wellness of peers within their social networks.'
Borah et al, 2015
Webinar Agenda
In this webinar we will discuss:
Why wellbeing should be a shared value across the organisation and not owned by one person or team.
How we create that shared ownership (HINT: It's through a network of wellbeing champions)
What an ideal sceanrio for our wellbeing champion team would look like
We'll also address why our wellbeing champion team should be inclusive, collaborative and empowered.
We'll explore these points and a lot more on our live webinar. Register for the event so you can join the live discussion and pose your own questions.
You must register in order to receive the access details.
Speaker Profile - Brian Crooke
Brian Crooke is a wellbeing educator, speaker and adviser, empowering Irish organisations to promote and sustain wellbeing within their workplaces.
He is the founder of the Workplace Wellbeing Ireland community and is Course Director of the Postgraduate Certificate in Workplace Wellness at Tangent, Trinity College Dublin. He is the host of The Work Well Podcast.
Brian recently launched The Work Well Institute , a learning hub for workplace wellbeing training and education which includes Brian's 8 Step Framework for Developing a Workplace Wellness Programme that Lasts.
In his spare time, Brian is bringing free resistance training to every county and community in Ireland through his parkHIIT social enterprise.
The Work Well Community
The Work Well Institute, Workplace Wellbeing Ireland and our community are for those working directly in workplace wellbeing, senior leaders and HR professionals tasked with wellness promotion in their organisations and anyone that is passionate about making their workplace a healthier place to be.
As well as the wonderful discussion, the webinar will be a fantastic opportunity to interact with others that are passionate about wellness at their workplace. There will be a chance to ask questions and interact with others through the live chat functionality.
The importance of investing in the health of our workforce is slowly being understood. We believe that by working together we can build on the momentum and share this message with many more people while at the same time improving the quality of the services that we offer.
Yours in health,
Brian