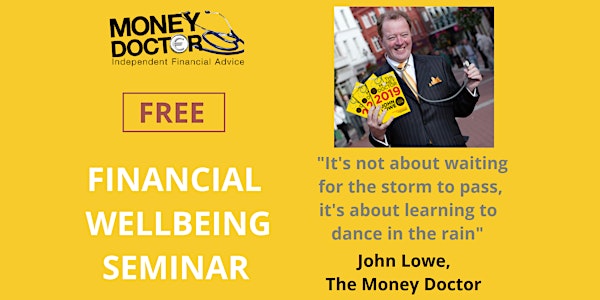 Wellbeing Wednesday - Financial Wellbeing Seminar with John Lowe (The Money...
Location
Clayton Hotel Leopardstown
D18 NR24 Dublin
Ireland
Description
Wellbeing Wednesday - 25th September
Financial Wellbeing Seminar
John Lowe, The Money Doctor
8:00am-9:00am - The Clayton Hotel, Leopardstown

Did you know that 70% of the stress suffered by employees is financial? 1 in 2 adults with debt have a mental health issue. If you find yourself stressing over money, here is something you wont want to miss!
We are offering this FREE Financial Wellbeing Seminar by John Lowe, The Money Doctor (one of Ireland's best known personal finance experts). This seminar and workshop aims to simplify and demystify the financial issues all of us face, empowering you to structure and budget your own finances, slash living costs and maximise your savings.

The four main areas covered will be:
Planning & Budgeting
Saving & Investment
Mortgages & Debt Management
Life & Health Cover, Pensions & Retirement Planning

There will also be an open Q&A at the end so that John can tackle all of your queries.
Click 'Register' to book your place.