Wellness in the Workplace - CIPD Ireland South East Region

Wednesday, 5 April 2017 from 18:30 to 20:15 (IST)
Event Details
CIPD South East Region and Vhi host 
"Wellness in the Workplace"
The recently published CIPD Policy Report (Jan 2016) on wellness highlights that the evidence for the benefits of wellness has never been stronger. However, whilst many studies show that the majority of employers recognise this fact, those very same employers are not implementing what they themselves deem as hugely beneficial. 


Venue:  Vhi, IDA Business Park, Purcellsinch, Dublin Road, Kilkenny


Date:    Wednesday 5th April 2017

Time:    6.30pm – 8.15pm (Refreshments followed by speakers and Q&A)


The business case for wellness is:

Why should you attend this event?
You will engage with three experts in the area of wellness to learn how employees and organisations can work together as an informed community to improve everyone's health and wellbeing. 
Dr. Ui May Tan, Vhi Health and Wellbeing Clinical Lead will explain the 7 pillars of Wellness and the importance of creating a healthy workplace and culture where both employer and employee are held accountable to engage in healthy behaviour.


David Ross, Vhi's Wellness Coordinator will share his strategies on creating a healthy workplace to suit all budgets.   


Kathryn McGagh, Vhi's Occupational Health Advisor will explain her role in helping employees achieve a healthy lifestyle and in turn enhance attendance.


There will also be an opportunity to have a health check-up on site!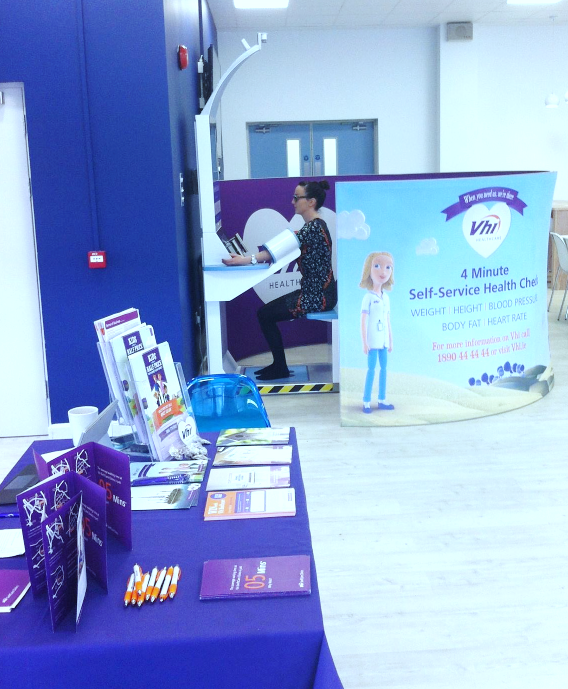 The portable Vhi Health Station will be on site at the event. It is a self-service unit with no appointment necessary. It performs an assessment of: 


Users who enter their email address receive a confidential report with an overall health score, demographic comparison (comparison to other people of same age and gender at the event and nationally) and a heart age score. 

And don't forget to enter the raffle and have the chance to win a Fitbit!!
Speaker Profiles
Dr. Ui May Tan, Health and Wellbeing Clinical Lead  
Dr. May's role in Vhi is providing analysis and expertise for the Vhi Medical Screening programmes and for healthcare - to ensure employee health and wellbeing.
May is a member of the ICGP and has been involved in health and wellbeing for the last 7 years. May is Medical Director for the Dublin Marathon and Race Series and provides medical support for the Vhi Women's Mini Marathon. 
David Ross, 
M.Sc. Sports Performance B.Sc. Sports & Exercise Science – Health and Wellness Coordinator at Vhi
David works to help Vhi employees to develop meaningful strategies to position Vhi at the forefront of wellness. He brings with him both knowledge and experience as a Personal Trainer, Coach and Sports Science Consultant. 
Kathryn McGagh RGN OHA,
Vhi's Occupational Health Advisor 
Kathryn has over 10 years' experience in occupational health in various organisations including DELL, IVAX, Cadburys, Whitfield Clinic and Abbot. She has set up Occupational Health departments and clinics in a number of organisations. Her experience includes working on OH Absence Metrics, driving Wellness and improving employees' health. Kathryn has also educated others as Nurse Tutor in Adult Progressive Education College, Dublin. 
Please Note:
Professional photography and video production may be taking place at the event and these images may be used on future promotional materials for CIPD. Please note that by attending the event, you are giving your consent for your image to be used on any CIPD promotional materials.
For your security and peace of mind, CIPD and its subsidiaries will not supply your details to any organisation for marketing purposes. By submitting this request you confirm that you agree to the use of your information as set out in CIPD's privacy policy. We reserve the right to include your name in a list of delegates at the event.
Non-members may click here to sign up to receive our e-newsletters which will keep you up-to-date with HR news in Ireland as well as CIPD Ireland events and survey research.
Do you have questions about Wellness in the Workplace - CIPD Ireland South East Region?
Contact CIPD Ireland
When & Where

Vhi Healthcare
Purcellsinch
Dublin Road
Kilkenny
Ireland


Wednesday, 5 April 2017 from 18:30 to 20:15 (IST)
Add to my calendar
Wellness in the Workplace - CIPD Ireland South East Region