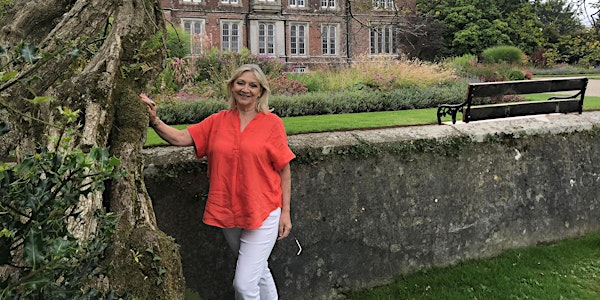 Wells for Wellness - Living Magically 1 Day Retreat
When and where
Location
Wells House & Gardens Ballyedmond Y25 CF96 Gorey Ireland
Description
Enjoy the magical surrounds of Wells House and spend a full day of self-discovery & awareness under the guidance of Trina Keane, Life Coach and founder of the Wise & Ageless Goddess Programme.
This workshop is for:
Women who refuse to see growing older as an inevitable deterioration in vitality and purpose.
They see this time as an opportunity to concentrate on their own fulfillment.
They know this is a time of new beginnings and a time to reignite the dreams and wishes they set aside in their youth.
They are a wise & Ageless Goddess and are ready to claim that status, living powerfully and magically every day of their lives
Includes Tea/Coffee/Biscuit breaks morning & afternoon and a lunch of Homemade soup with assorted wraps.
Tickets are €90 per person to attend the workshop.

Your Teacher – Trina Keane

It was my own experiences at midlife that led me to found the 'Wise & Ageless Goddess Guide to Living Magically' community.

My mission is to show women that growing older, far from being a process of decline or breaking down, is a transformational and liberating age when a woman gets to reveal her true beauty. She discovers her gifts for healing, magic, and wisdom and finds joy and meaning in the adventure of delivering these to the world.

In my programs and workshops, I have the privilege of helping women step into their status of Wise & Ageless Goddess. This is a time when her direction and focus moves from the nurturing phase and into the exploration of meaning and joy in her own life by means of tapping into and being led by her innate wisdom. Learning to do that and to trust it is a highly transformational process and my clients say that it has changed their lives and brought adventures they never 'in their wildest dreams' expected.

Today I'm a regular contributor on Carol Dooley's Saturday Live Show on Sunshine 106.8fm Radio in Dublin, covering topics such as my 'MenoPower', 'It's Never too Late to Begin' and 'Living Magically' mentoring programs and other subjects on the sacred soulcraft of self-nurture for women in midlife and beyond. I am a Hay House Certified Angel Guide and a team member on The Holistic Journal.

The Wells Estate team and I have created the most beautiful, soulful retreat experience for you and the only rule is that you put yourself first for the duration. I'm so excited to share it with you.

Trina x

You can find me here:
Website: www.trinakeane.com
Facebook pages:
Wise & Ageless Goddess
November Bliss with Trina Keane (support page to the November Bliss free online 30-day programme)
YouTube channel: Wise & Ageless Goddess
If you would prefer to book your tickets by phone or email;
retreats@wellshouse.ie or call 053 9186737, thank you.