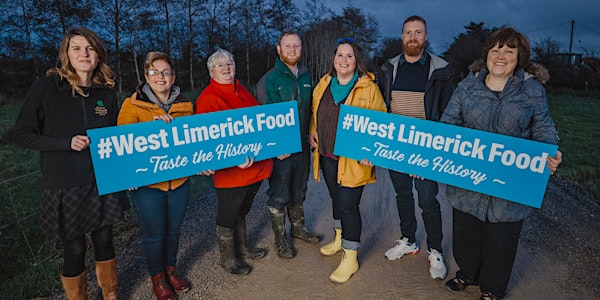 West Limerick Food Series 2: Getting Down to Business in the "New Normal"
West Limerick Food Series 2 Introductory module: Getting Down to Business in the "New Normal"
About this event
The West Limerick Food Series 2 is a networking and training initiative featuring a blend of workshops with expert trainers, guest speakers and interactive discussion. It is open to, but not limited to, food/drink producers and growers, café owners, restaurateurs and chefs, hoteliers, B&B owners, tour guides/operators, retailers, publicans, tourist attractions and food/drink enthusiasts in the West Limerick area.
Each module is followed up by an optional online support session for interested participants, aimed at developing collaborative opportunities such as events and marketing campaigns.
MODULE DETAILS
This introductory module to the West Limerick Food Series 2 will provide participants with a clear understanding of the programme's goals, methodology, outputs and stakeholder responsibilities.
Attendees will be introduced to The Discovery Partnership team members who are responsible for the delivery of the training programme for West Limerick Resources CLG.
9.30AM - 11.30AM INTRODUCTIONS, PROGRAMME AIMS & OBJECTIVES
11.30AM - 11.45AM BREAK
11.45AM - 12.45PM OPTIONAL FOLLOW UP GROUP DISCUSSION
ABOUT THE WEST LIMERICK FOOD SERIES
West Limerick Resources CLG is a community-based local development company which administers a range of community focused Programmes in the West Limerick area. It has secured funding under the LEADER Food Initiative ,delivered by the Department of Rural and Community Development and the Department of Agriculture, to further develop the food sector and food tourism industry in the area. The 2021-2022 West Limerick Food Series (phase 2) is a FREE training programme delivered by The Discovery Partnership on behalf of West Limerick Resources CLG for food/drink/hospitality/tourism businesses/individuals in the West Limerick region.
The first West Limerick Food Series culminated in a long table feast at which guests were introduced to the #TasteTheHistory concept whilst enjoying a menu created by local chefs using local ingredients. The farmyard barn venue was testimony to the innovation and creativity that the programme workshops inspired and was made possible as a result of group collaboration. Please note that you do not have to have taken part on the previous West Limerick Food Series to take part in the latest one.
The first half of the West Limerick Food Series 2 will be delivered online and sessions cover a range of subjects including:
• Building the West Limerick Food Tourism Brand & Network
• Organising Food Festivals & Innovative Alternatives
• Funding Growth & Monetising the West Limerick Food Brand
The latter half of the programme will include face to face training workshops and field trips, Covid-19 permitting.

ABOUT THE DISCOVERY PARTNERSHIP
The Discovery Partnership boasts an experienced team of experts who have facilitated a large number of food and food tourism projects over the years, working closely with government agencies including Leader companies, LEOs, Bord Bia and Fáilte Ireland.