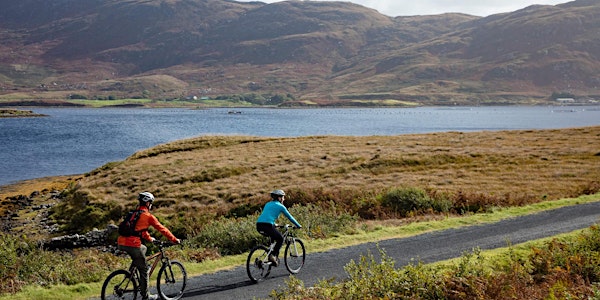 Westport & The Great Western Greenway (cycle)
...
By Learning Abroad Cultural Programme
Date and time
Sat, 15 Apr 2023 07:00 - 22:00 IST
Location
Westport Westport Westport Ireland
About this event
The Great Western Greenway is a spectacular off-road cycling trail along an old railway line from Achill Island to Westport. It follows the line of the famous Westport / Achill Railway, which closed in 1937. Its development has been made possible by agreement of local landowners who have allowed permissive access to users to pass through their lands. This route offers gentle gradients and some of the most idyllic scenery in the west of Ireland.
Our journey will be from Achill Island to Newport (32km) then we'll hop on the bus to Westport where we can refresh, relax and explore. The idea is to take your time, stop off anywhere along the way for photos, snacks, rest etc.
This is not a demanding cycle at all. It's relatively flat terrain and you don't need to be an experienced cyclist!
Itinerary
08:00 - Depart UCD UCD Campus Bus & Coach Terminal
12:00 - Arrive Achill
12:30 - Cycle to Mulranny (14km, approx 1 hour)
13:30 - Arrive Mulranny
14:00 - Cycle to Newport (18km, approx 1 hour)
15:00 - Depart Newport by Bus
15:30 - Arrive Westport, explore, unwind!
18:30 - Depart Westport
22:30 - Arrive UCD
Tips/What do I need to bring/wear?
You MUST be able to cycle
It's a very long journey, bring water/snacks/headphones/phone charger etc.
It's Ireland, always bring a raincoat.
Wear comfortable and appropriate footwear.
Keep an eye on the weather forecast and dress accordingly (e.g. windbreaker, fleece jacket, hat, scarf).
Put on a little sunscreen! Ireland's breeze can be deceptive.
Tickets
Your deposit will be FULLY refunded if you attend the event.
We cannot offer refunds if you change your mind and wish to cancel your ticket.
One ticket purchase per person (we need to print an attendance list).
Restricted Entry
This event is only open to undergraduate students enrolled on a UCD Erasmus/Exchange/Study Abroad programme.
If you did not receive a direct email about this event, I'm afraid you cannot attend.
About the organiser
An essential part of studying abroad is for you to experience the local culture and traditions of your host country. UCD Global provides a complimentary Cultural & Social Programme for our Study Abroad, Erasmus and Exchange students. We'll take you on various cultural nights out in the city and day trips across the island!
Music, theatre and comedy shows; hiking and cycling trips; castle, cave and factory tours! We're also known to throw a party or two during the trimester i.e. Welcome Reception, Thanksgiving Dinner, Super Bowl Night and much more.
This series of activities and excursions are completely FREE to attend and we encourage you to sign up to as many as you wish! At the beginning of term we'll send you a calendar of events which you can sign up for at any time during the trimester.
On Sale 7 Apr 2023 at 13:00