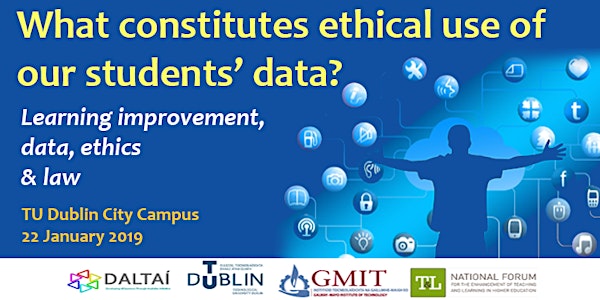 What constitutes ethical and effective use of our students' data?
Exploring critical questions for learning analytics: what do we mean by ethical and effective use of our students data?
Date and time
Wed, 22 Jan 2020 10:00 - 13:00 GMT
Location
Rathdown House, Grangegorman Lower TU Dublin City Campus, Rathdown House, Grangegorman Lower, Arran Quay, Dublin 7 Arran Quay Dublin 7 Dublin Ireland
About this event
Many of us in the higher education sector in Ireland are commencing a process of developing learning analytics capabilities and best practices. A critical success factor in the development of our learning analytics capabilities involves achieving clarity on the appropriate use of data. This is increasingly important given our responsibilities under the General Data Protection Regulation (GDPR). To this end, Daltaí* project leaders are organising a half day seminar on January 22nd to capture and discuss the shared challenges we face in determining how we might use data in ethical and legally compliant ways to support our students.
The keynote for this session, "learning improvement, data, ethics and law" will be given by Andrew Cormack (Chief Regulatory Officer with JISC UK). Andrew has played a key role in developing a learning analytics code of practice for the UK higher education sector, so we are delighted that he can join us and it will be a great opportunity to learn from his expertise and experiences.
This will be followed by a panel discussion where we will explore the perspectives of different stakeholders in Irish higher education on how we could/should use data to support our students.
The event will take place from 10:00am to 1:00pm on 22nd January in RD005, Rathdown House, Grangegorman. Lunch will be provided from 1-2pm.
Please note that as a National Forum-funded event, places are restricted to those affiliated with an Irish higher education institution. Confirmation of places will be restricted to those who provide an institutional email address on registration.
*The DALTAI project (Developing All Learners Through Analytics Initiative) aims to increase digital proficiencies amongst staff and students in higher education, particularly in relation to the effective use of learning data to promote student success. It is funded by the National Forum for the Enhancement of Teaching & Learning (http://daltai-he.ie).