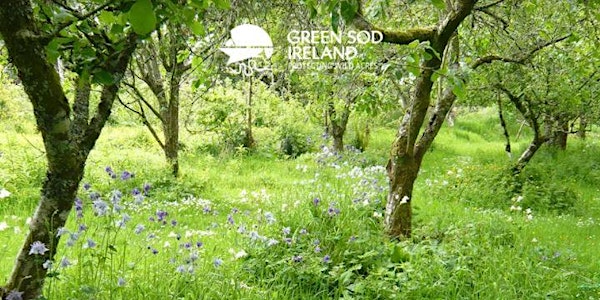 What Does a Healthy Environment Look Like? for Wild Acres Week
What Does a Healthy Environment Look Like? for Wild Acres Week
About this event
What does a healthy environment look like? Join us to learn more about our connection with nature and to hear more about an important topics as eco-anxiety, hidden ecology , and plant blindness.
Speakers Include:
Amanda McKnight, non-formal external facilitator with Green Sod Ireland
Amanda is a non-formal external facilitator with Green Sod Ireland. In her own words:
"I am a facilitator where Mother Earth and Wellness intersect, and I weave my own non-formal education background into my workshops. My personal intent for working with Green Sod Ireland is to encourage young people to navigate through larger community issues such as eco-anxiety, climate action, social and environmental (in)justice."
Amanda will invite you to hear about the workshop she designed and delivered to TY's this year focusing on developing new access points to build relationships in nature. You can apply your own curious thinking to determine, how can we create accessible words that people can apply to their lived experience in nature to connect deeper to ourselves and the earth?
https://gardengnar.wixsite.com/gardengnar/about
Dr Karen Bacon, Lecturer in Botany & Plant Science, NUI Galway
Dr Karen Bacon will speak to us about plant blindness: how plant aware are you?
Dr Bacon is a lecturer in Plant Ecology in Botany & Plant Sciences at NUI Galway. She was awarded her PhD in 2012 from University College Dublin and holds degrees in botany and geology, also from UCD. Dr Bacon's research interests span modern plant ecology - with interests in extinction risk, invasive species and ecology - to palaeoecology - with interests in plant responses to mass extinctions, fossil preservation and geochemistry. She is also interested in how people engage with plants and in botanical education. Dr Bacon worked in the University of Leeds for six years until taking up her position in NUI Galway in 2019.
Maria Long, Grassland Ecologist, National Parks and Wildlife Service
Maria will introduce us to Ireland's semi-natural grasslands – which because they are not agriculturally 'improved', can be very species-rich, supporting an abundance of biodiversity both above and below the ground. These grasslands are often 'hidden in plain sight', with members of the public largely unaware of their existence, their importance, and crucially, their vulnerability.
Maria is the Grassland Ecologist with the National Parks and Wildlife Service (NPWS). Her remit includes providing scientific advice on the conservation of grasslands, as well as oversight of survey, monitoring, management and designations for these habitats. She also aims to raise public awareness of the value of semi-natural grasslands. She worked for seven years as the Botanical Society of Britain and Ireland's 'Irish Officer', based at the National Botanic Gardens, and worked independently as an ecological consultant between 2001 and 2019. Her PhD looked at the effects of land abandonment on biodiversity, focussing on plants and molluscs.
Ida Mitrani, Visual Artist
Ida will introduce us to the work she has developed during her MA (development of artworks, materials used) and her research on Plant Blindness, the relationship and the interaction between humans, plants and technology, meaning of weeds in today's society.
Ida recently completed her Master's in Art and Process in the Crawford Art College in Cork. Her artistic concerns and interests are influenced by concepts and theories of plant culture including plant blindness and hybrid material. Ida's end of year exhibition was the result of a year-long research project, reflecting the relationship and the interaction between humans, plants and technology, whilst looking at the function and meaning of weeds in today's society.
Ida's creative process explores ways of combining various recycled, non-biodegradable materials, organic life forms and digitised images with her drawings.
This community focused initiative is kindly supported by Rethink Ireland.