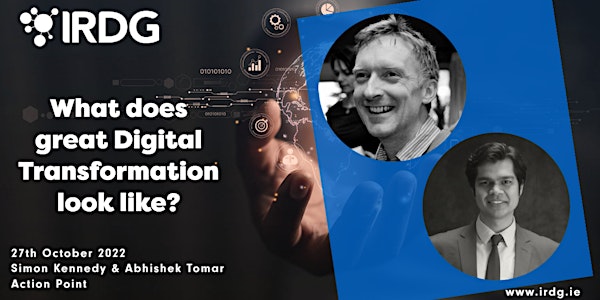 What does great Digital Transformation look like?
How do you transform existing business to defend value and how do you create new value leveraging digital technology?
About this event
IRDG is delighted to bring you this special members-only complimentary virtual event.
Kicking off our #Futures series we'll look at What great Digital Transformation looks like, as we're joined by Simon Kennedy, Head of Digital Transformation, and Abhishek Tomar, Lead Digital Transformation Consultant, at ActionPoint.
This interactive session will look at what do we mean by Digital Transformation and how companies, and the people that lead them, do it really well. We'll look at examples of both service and manufacturing Digital Transformation.
During the webinar we'll look at the different stages for companies on their journey, understand the challenges to progress, and look at how these can be overcome. You'll get some insight into your own company's digital maturity and see how this compares with other Irish companies. As part of the session, ActionPoint will share insights from a detailed Digital Transformation survey they carried out with over 250 companies earlier in the year.
There is no charge for employees of IRDG member companies to attend this event, and multiple people are welcome. The link to join will be issued to all who register in the days prior to the session.
Contact Mary.Byrne@irdg.ie with any questions.