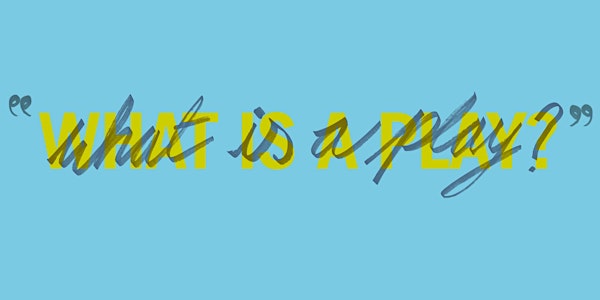 What is a Play? Symposium
Irish Theatre Institute (ITI) presents 'What is a Play?'- an online symposium celebrating the 20th Anniversary of PLAYOGRAPHYIreland.
About this event
WHEN: Thursday 4th & Friday 5th November, 10am - 12.30pm (daily)
WHERE: On Zoom
ITI invites you to our online Symposium 'What is a Play?' Join us across two mornings celebrating and interrogating the art, craft and business of playwriting, built around the central provocation 'What is a Play?'
Join us for a series of panel discussions, and a special keynote from leading contemporary playwright Mark Ravenhill, entitled: "A playwright is simply a maker or builder of plays."
Each talk has been inspired by a quote from an essay by a contemporary playwright/theatre-maker in a companion digital publication (details below).
COMPANION DIGITAL PUBLICATION
ITI commissioned six responses from playwrights and theatre makers to the provocation 'What is a Play?' : Veronica Coburn, Rosemary Jenkinson, Thomas Kilroy, Phillip McMahon, Zoe Ní Riordáin and Martin Sharry. These essays are the building blocks of the keynote and panel discussions. In advance of the event, you will receive the digital publication as a companion to the symposium.
**********
ABOUT MARK RAVENHILL
Mark Ravenhill's plays include Shopping and Fucking and The Cane (Royal Court Theatre), Mother Clap's Mollyhouse and Citizenship (National Theatre), The Cut (Donmar) and Pool No Water (Frantic Assembly). Recent work includes the musical Boy In The Dress (RSC) and lockdown audio drama Angela (Pitlochry/Edinburgh Lyceum/Radio 3). He is the incoming Co-Artistic Director of the Kings Head Theatre.
**********
WHAT IS A PLAY? SYMPOSIUM - Schedule
Day 1: Thursday 4th November
10.00am - 10.15am Introduction from Irish Theatre Institute's Co-Directors Siobhán Bourke and Jane Daly including a presentation about the founding of PLAYOGRAPHYIreland.
10.15am - 10.50am "A playwright is simply a maker or builder of plays." (Veronica Coburn)
A keynote address on the playwright as a builder of plays and maker of worlds by Mark Ravenhill.
Q&A following Keynote
10.50am - 11.00am BREAK
11.00am - 11.35am Panel #1: "A play is shared finitude." Martin Sharry
A discussion on play endings featuring Lyn Gardner, Sonya Kelly, and Professor Chris Morash.
11.35am - 11.45am BREAK
11.45am - 12.30pm Panel #2: "The rest is up to us." Phillip McMahon
A discussion about the role of the cast and creative team in bringing new writing to the stage featuring John Comiskey, Denis Clohessy, Fiona Keller, and Elaine Murphy.
** Closing Remarks**
Day 2: Friday 5th November
10.00am - 10.15am Opening remarks and reflection on Day 1 from ITI.
10.10am-10.50am Panel #1: "Both literary and oral." Rosemary Jenkinson
An exploration of reading and publishing plays featuring Jim Culleton, Dr. Tanya Dean, Nick Hern, and John O'Donovan.
10.45am-10.50am Presentation #1: Overview of PLAYOGRAPHYIreland ePlays by Kate Heffernan, Playography Researcher.
10.50am - 11.00am BREAK
11.00am - 11.40am Presentation #2 "A play is what survives of theatre." Martin Sharry
A series of presentations on the contemporary documentation of theatre featuring Pom Boyd, Noelle Brown, Shanna May Breen & Luke Casserly, and MALAPROP (Dylan Coburn Gray & Maeve O'Mahony), including a reflection by Dr. Barry Houlihan.
11.40am - 11.50am BREAK
11.50am-12.30pm Panel #2: "It was a show of no words. A play script exists." Veronica Coburn.
A discussion about non-verbal theatre in a historically literary tradition featuring Marc Mac Lochlainn, Anna Newell, and Emma Martin.
** Closing Remarks**
- This webinar will have live speech to text provided by MyClearText, If you have additional access requirements, please email info@irishtheatreinstitute.ie for assistance. 
- The Symposium will be recorded and published on ITI's YouTube Channel after the event.