What Neuroscience can Teach us about Teaching!

Friday, September 23, 2011 from 2:00 PM to 4:00 PM (BST)
Event Details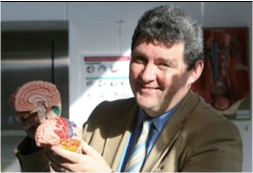 Professor William T. (Billy) O'Connor is an internationally recognised leader in both research and education in neuroscience. He has been recognized by the award of the Conway Silver Medal for Achievement in the Biosciences and has secured over 3 million Euro in research funding. He is skilled and experienced in making neuroscience accessible to the public.  Professor O'Connor has  a keen interest in the application of neuroscience – the scientific study of the nervous system - to more effective education and training methods including such questions as - are good teachers born that way or can they be made?  His blog 'Inside the brain'  http://Inside-the-brain.com/  which was a finalist in this year's Irish Blog Awards reports on the latest from the world of brain research including recent neuroscience findings to get the best from your brain.
Workshop Details
Recent brain research shows that different circuits are called upon in the brain for different activities such as math, music and reading. In addition, learning and practicing particular skills can cause corresponding areas in the brain to grow or change by adding a tiny fraction of the brain's neural circuitry and eliminating old ones. Imaging technologies are helping map the circuits and study variability among children with learning difficulties. Moreover, recent research is providing insight into attention systems in the brain and is shedding light on how we plan, initiate, organize, and most importantly, inhibit certain behaviours. This workshop contributes to this dialogue by summarising what we already know about the learning process in the brain and suggests how it might inform the teaching/learning process in the classroom using approaches such as problem-based learning.
Particular areas of interest to staff may include:
1. An overview of how problem-based learning is implemented and assessed in University of Limerick on the Graduate Medical School programme.
2. A review of how the brain learns and memorises new information
3. An examination of the different brain circuits involved in processing science and maths concepts, music and reading or laboratory skills
4. Recommendations on how we can facilitate and support appropriate learning environments.
To comment before of after the event, checkout the blog at http://sligolearning.blogspot.com/
Attendee List
Sort by:

Date

|

First Name

|

Last Name
When & Where

A0006
Beside reception



Friday, September 23, 2011 from 2:00 PM to 4:00 PM (BST)
Add to my calendar
Organizer
IT Sligo/NDLR Webinar Series
IT Sligo is funded by the NDLR to provide a series of webinars in the area of Teaching and Learning. Presenters are from a wide range of HE institutes and organisations.