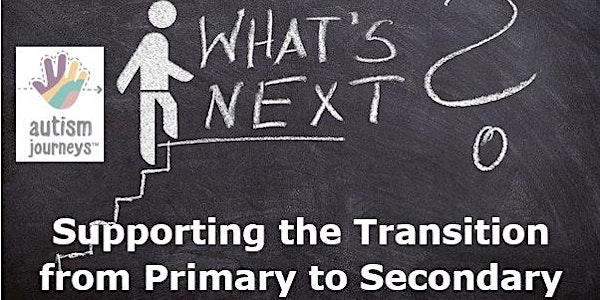 What's Next: Supporting the Transition from Primary to Secondary School
A strategies based workshop to help parents and support people ensure the autistic child has a smooth transition to secondary school
About this event
Many autistic students find the transition to secondary school both challenging and anxiety-inducing, and as parents and educators it is natural to want to make this transition as easy as possible. Channelling experience garnered from decades of supporting autistic children and adolescents through their educational journey, this workshop sets out to provide parents and professionals with a combination of relevant information and practical strategies and ultimately give them the tools they need to give any autistic young person the best possible start to their secondary school journey.
Topics covered include
executive functioning and organisation
teacher parent communication
navigating friendships
advocacy
About Sharon
A parent in an autism and additional needs household, Sharon has advocated for her family for many years to ensure educational, physical and health needs are met, and that her children are afforded equitable opportunity to realise their potential.
She the mind behind, and presenter of, Autism Journeys Radio Show and Podcasts. Interviews include the opinions of some of the world's leading researchers and autistic advocates including Dr. Luke Beardon, Dr. Damian Milton and Dr. Lenny Thornton. She prides herself on the eclectic mix of information in the many podcasts of these interviews now available on
SoundCloud - https://soundcloud.com/user-83407875
Spotify - https://open.spotify.com/show/4wyCjWADNvBPdXkRp39SNo?si=K-3HK3lVS0WwurgsP0shjw
Sharon is passionate about progression in the field of disability and autism, continuing to upskill to best support autism parents and autistic individuals. She strives to ensure educational professionals and support staff are equipped to respectfully meet the needs of said individuals and holds a number of autism and disability specific qualifications. She is also both a qualified advocate and a childcare professional.
Sharon works alongside and provides support and advice for autistic individuals and their families, on both personal and professional bases. She has worked as an educational advocate for children and young adults and she lectures on several autism courses in the Cork College of Commerce. Sharon is also one of the core creators and lecturers on University College Dublin's new Special Needs Training Programme, in collaboration with the National Council for Special Education. She has delivered many autism specific training workshops to both support and educational staff working with autistic individuals and she also assesses any environment to ensure the setting is structured to best meet the needs of autistic individuals in attendance.
She is author of the comprehensive visuals programme "Supporting Autonomy: Visual strategies to set the autistic child up for success", outlining how best to structure any environment from a visual standpoint to ensure both access to and communicative and regulation support for the autistic child.
Additionally, Sharon has spoken on supporting autistic autonomy, educational and autism best practices both nationally and internationally.
Services include -
➢ Parental and Individual Consultancy and Support
➢ Bespoke and Tailor-made Training packages and workshops
➢ Environmental Assessment and Modification Services
➢ Coaching and Mentoring Support
➢ International Speaker
https://www.autismjourneys.ie/