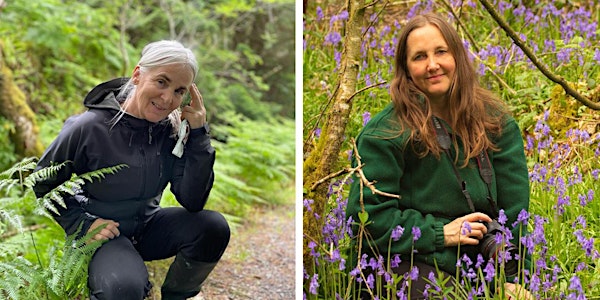 Where the Wild Things Grow
A family friendly foraging event for Culture Night in Clonaslee. Are you interested in plants, nature or foraging?
When and where
Location
Brittas Forest Entrance Main St Clonaslee Ireland
About this event

We invite you to join Mary Bulfin, foraging facilitator and maker of wild food, and Heather Rice photographer and nature lover, on a foraging trip in Brittas Forest, Clonaslee.
Both Mary and Heather will share their knowledge and interest in wild plants, and encourage you to also share what you know. The session will include a guided walk, in Brittas Forest, to find and identify wild plants with food, medicinal or other uses such as sources of natural dye or fibre.
Following this one-hour walk we will gather at the Clonaslee Heritage Centre to chat about what we've found and experience demos on use of these plants with Mary and Heather. Local refreshments and beverages served by local foodies the Hikers & Bikers aka the Sweeney sisters.
This event is open to all ages. We particularly encourage intergenerational family groups, parents, children, teens and grandparents to come along and share your curiosity and knowledge about wild plants.
Meeting Point: Brittas Forest Entrance, Clonaslee. What to expect: This event will start with a 1hr walk in in the forest. As we'll be outdoors please wear weather appropriate clothing and strong shoes. The paths are well maintained but you may need boots or welligtons if the ground is wet from rain. A bag to collecty your plant finds and gardening gloves might be useful.
Curated by Monica Flynn for Laois County Council Arts Office, as part of the Laois Culture Night programme of events. Culture Night is brought to you by The Arts Council in partnership with Laois County Council. Cuireann an Chomhairle Ealaíon Oíche Chultúir i láthair, i gcomhpháirt le Comhairle Chontae Laoise.
Mary Bulfin / Wild Food Mary - I have a background in science, cookery, and natural medicine, foraging has been part of my life since I started accompanying my granny on woodland strolls as a child. My mother also taught me so much about nature, and we were brought up on a very healthy diet which included plenty of wild food, from rabbit and pigeon to mushrooms and watercress.
What I like most about foraging is that it means being out in beautiful nature, the woods, at the seashore, in hills and meadows. When I eat something that I picked and preserved months earlier, the memory of that day comes rushing back with the taste. Knowing that it is organic, healthy and natural warms my heart and fills me with vitality. www.wildfoodmary.com
Heather Rice - I am an Artist, Photographer, Nature lover and Home Educator living in the beautiful Slieve Bloom Mountains. I grew up in the Dublin mountains exploring nature with my Father, Dr. Derek Goodhue, who wrote and illustrated a number of books on Irish nature in the Folens Irish Environmental Library Series. From an early age I was fascinated with the natural world, and this has continued to be a strong focus in my adulthood.
At the start of the first Covid lockdown I decided to do a 100-day photographic project recording and identifying flowers in my area. I have since made this into a book called 'Wildflowers of the Slieve Bloom Mountains' which gives a photo of each flower then tells of its traditional uses. I am so lucky to live on the "Mountain of Flowers", a rich diverse environment and wish to share its extraordinary wealth of Nature with others. I believe getting out and really focusing on Nature is extremely good for people. Having studied Archaeology in Trinity College Dublin I have always been interested in how plants were used in earlier times as dyes and fibres. Recently I have started to look at nettles and how they were used since prehistoric times to make cloth.
Hikers & Bikers is a retro food truck, run by the Sweeney sisters, serving high quality food and beautiful sustainable organic coffee in the idylic village of Clonaslee, Co. Laois.
Monica Flynn is a curator, currently based in Dubin and a native of Clonaslee. Her work involves organising and producing collaborative, visual arts projects, exhibitions and events that focus on wellbeing and sociabiltiy.