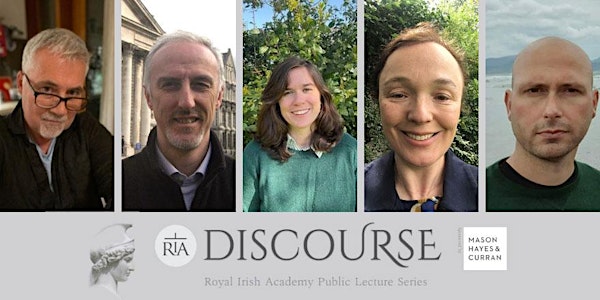 Who were they? Conversations between Genetics and Archaeology
Academy Discourse conversation exploring how best to align genetic and archaeological datasets and ways of thinking about them.
Refund Policy
Contact the organiser to request a refund.
About this event
In recent years, studies of ancient genomics have offered exciting and compelling narratives on our understanding of human prehistory. Geneticists utilising innovative analyses of aDNA have offered us stories about people in the past that incorporate migration, ancestry, kinship and the possibility of conflict. On the other hand, archaeologists, inspired by the anthropological diversity of human relationships and the archaeological evidence, have long sought to understand how people in the past constructed, enacted and negotiated their social identities of gender, status, kinship, community and belonging through their relationships with each other, with place, animals, things and time.
This Royal Irish Academy Discourse will explore through conversations between geneticists and archaeologists how best to align genetic and archaeological datasets and ways of thinking about them. What are the challenges in trying to establish a productive dialogue that is cognisant of disciplinary differences and retains a critical perspective on the role of archaeology and genetics in the present?
Our Panel
Aidan O'Sullivan MRIA (Chair) teaches Archaeology at University College Dublin, with research interests in early medieval Ireland in NW Europe, experimental archaeology and material culture, and wetlands archaeology. He is a (co)author of three RIA monographs, including Early Medieval Ireland, AD 400-1100. The evidence from archaeological excavations (Royal Irish Academy, 2021 reprint)
Dan Bradley MRIA, Professor of Population Genetics, TCD originally from Co Derry he has worked in Trinity College Dublin since completing his PhD after undergraduate study in Cambridge University.  He has been involved in ancient DNA research since the beginnings of the field in the 1990s,  concentrating initially on analysis of ancient domestic animals, and more recently on ancient human genomes, including Irish, British and early Europeans. This research has been funded by a Wellcome Trust Investigator award and two European Research Council Advanced grants. Bradley has also worked on medical genetics, including motor neuron disease and helped found the successful livestock genetic testing company, Identigen. He was awarded the 2020 Royal Irish Academy Gold Medal in the life sciences.
Dr Lara Cassidy, Assistant Professor, Department of Genetics, TCD was awarded her Ph.D. in ancient genomics in 2018 from the same institution. Her doctoral focus was the application of next generation sequencing technologies to the study of Irish prehistory, which resolved longstanding questions on the genomic origins of the island's present-day population. She expanded upon this work as a postdoctoral researcher with Prof. Dan Bradley, before establishing her own research group in 2020. Her current interests include: leveraging Ireland's insularity and long-term genetic continuity to study the evolutionary forces that have shaped human health and disease; reconstructing aspects of social organisation in past societies through patterns of relatedness, inbreeding and finescale population structure; optimising ancient DNA data processing and curation to establish best practices in the field from both a methodological and ethical standpoint.
Professor Joanna Brück, Professor and Head of School of Archaeology, UCD - a specialist in the Bronze Age, she is particularly interested in the treatment of the human body and concepts of the self; domestic architecture; and the social role of objects. Recent publications include Personifying Prehistory: Relational Ontologies in Bronze Age Britain and Ireland (Oxford University Press, 2019) and The Social Context of Technology: Non-Ferrous Metalworking in Later Prehistoric Britain and Ireland (Prehistoric Society, 2020); the latter was the outcome of a Leverhulme Trust-funded research project on which she was Principal Investigator. She is Vice-President of the Prehistoric Society and an Editor of the journal Archaeological Dialogues. She also has an interest in the archaeology of the revolutionary period and co-edited the volume Making 1916: material and visual culture of the Easter Rising (Liverpool University Press, 2015).
Dr Neil Carlin, Lecturer, School of Archaeology, UCD - his research concentrates on the material traces of past activity in Ireland and Britain and their wider European contexts, especially during the second, third and fourth millennia BC. His recent work focused on approaches to 'culture', chronology, identity, status, migration and aDNA. He is Co-PI, along with Dr Seren Griffiths on the IRC/AHRC funded 'Project Radiocarbon' which is assembling and validating radiocarbon dates (with all their metadata) from across the islands of Ireland and Britain within a sustainable and searchable open-access map-based digital repository. He is also Co-I on the AHRC funded 'Project TIME' which uses the latest radiocarbon dating techniques to produce new high precision chronological sequences to better understanding how lives, practices, monuments and materials in Britain and Ireland continued and changed between 3500-1500 BC.
The 2021/22 Discourse Series is sponsored by Mason, Hayes & Curran LLP.