Event Information
Refund policy
Refunds up to 1 day before event
Boundaries are quite difficult to hold as it often feels like "your whole body can't do it!". This workshop will help you set and keep them!
About this event
Boundaries can be quite difficult for a lot of people as it often feels like "your whole body can't do it!". This workshop is designed to inform you of the multiple reasons why YOU may struggle with boundaries. By understanding the roots of your patterns, you will gain insight and clarity on how best to create and maintain healthy boundaries in your life.
As a Psychotherapist and Coach, I regularly work with clients who struggle with putting healthy boundaries in place and/or not keeping them. Lack of Boundaries can have a direct impact on:
• Mental Health
• Anger Issues
• Burnout
• Relationships
• Lack of Self-Care
…and much more.
Part 1: Knowledge is Power:Thursday 3rd Feb 2022: 7.30pm -9pm
By exploring the many reasons why boundaries are difficult , you will be encouraged and supported to acknowledge the root of YOUR boundary difficulties. With this insight/awareness you will be empowered to understand yourself better; and from this place of clarity you will start the journey of change.
Part 2: Exploration: Thursday 17th Feb 2022: 7.30pm -9pm
This workshop 2 weeks after our initial workshop will explore what worked and what didn't. I will support you to gain deeper clarity on how to implement the changes you want and deserve to make. By being part of the group, you will also gain greater learning from others in the group.
Details:
Where: On-Line Zoom
When: Thursday 3rd and 17th February 2022: 7.30pm-9pm
For Who:
If You Struggle With Boundaries
Want To Understand And Create Healthy Boundaries
Want To Understand Why Boundaries Are Difficult
If You Feel Like No-One Listens/ Hears You
If Guilt Makes You Give In!
How much: € 90 (including VAT) for 3hrs over 2 workshops
This is a limited group to ensure that there is time and space for everyone to come away with their own insights and clarity moving forward.
Early Booking Essential.
*** This will be a closed & confidential group: No Recordings will be made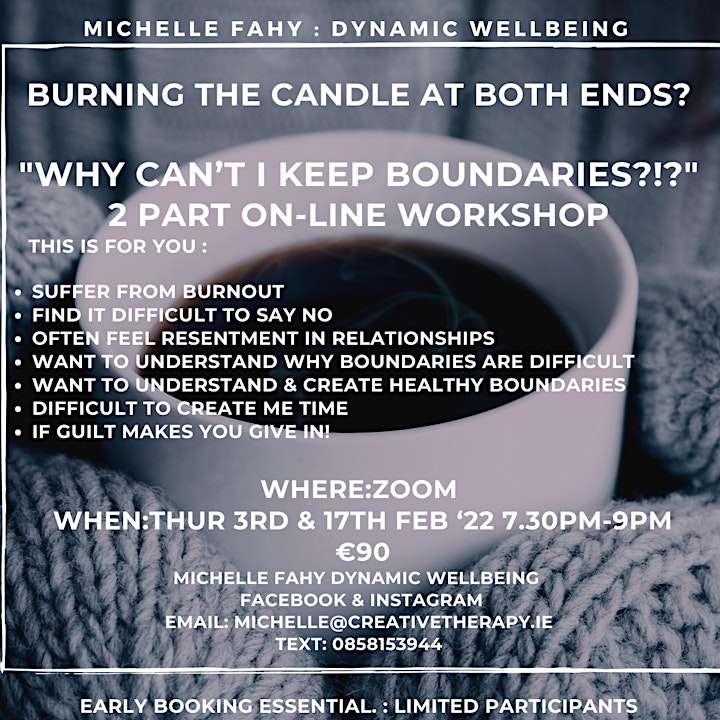 Date and time
Location
Refund policy
Refunds up to 1 day before event
Organiser of Why Can't I Keep Boundaries?!?
Hello, I'm Michelle. I am glad you are here.

Dynamic Wellbeing is about having someone in your corner, to support you exactly where you are and empower you to move to where you want to be.
For over 20 year I have been supporting, empowering and advocating for people across all age groups to tune into the truth of who they are; understand the unconscious blocks that limit them, and support them in making changes and moving forward into a more joyful and dynamic life.

Making change and taking even the smallest of risks can be very daunting. This is something I understand both personally and professionally. Helping people understand these fears and how they impact on us, our family , our relationships and the working environment, is the key to overcoming them.

Psychological blocks, restrict us expressing our truest selves; keep us shackled by the past and can prevent us moving forward. This in turn has a direct impact on all aspects of our lives and wellbeing. In fulfilling my sense of purpose and passion , nothing gives me greater joy than be able to share my experience, knowledge and curiosity to empower you on your journey to create the changes you want to make in your life or company.

I holistically, intuitively and creatively keep you on track, having your back all the way.