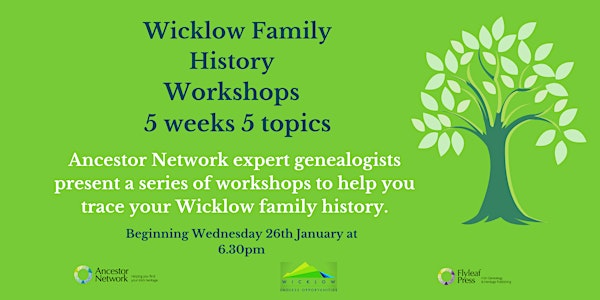 Wicklow Family History Research Workshops - 5 weeks 5 topics
Genealogy worshops with Ancestor Network to help you trace your Wicklow Family History. Five weekly workshops begining Wed 26th January.
About this event
Ancestor Network, one of Ireland's most eminent genealogy research, advisory and publishing firms, provide a series of five weekly workshops to demonstrate how different sources for family history research can provide vital clues to our family past and help us understand our family's story.
Using Wicklow based records and examples, the workshops will explore a different record set each week:
Week 1: Introduction to County Wicklow Family History Sources (including an overview of Census Records)
Week 2: Church Parish Records including burial records (where to find them, gravestone inscriptions, Wicklow graveyards, etc.)
Week 3: Printed Sources (focus on local newspapers and local and family history sources).
Week 4: Land Records (Registry of Deeds, Tithe Applotment Books, Griffith's Valuation, Landed Estate Courts, the Land Commission, etc.)
Week 5: Estate Records – using examples of County Wicklow estates, deeds, and rentals to demonstrate.
The workshops will be delivered online via Zoom every Wednesday evening from 6.30pm starting on the 26th of January 2022. Sign up and attend one or all workshops.
The session will consist of a 45 minute workshop followed by a 30 mins Q&A where experts will be on hand to answer questions from participants. Book your ticket and you will receive an invite to join the Zoom meeting via email.