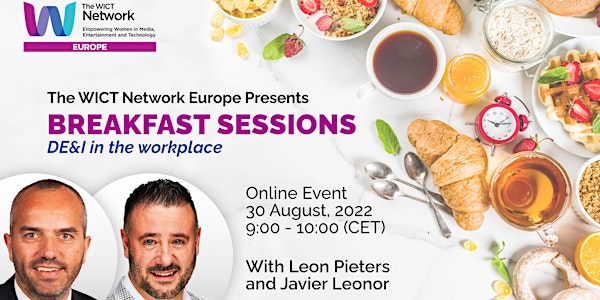 WICT Network Europe Breakfast Sessions - Leon Pieters and Javier Leonor
Join us for a talk with Leon Pieters and Javier Leonor at 9.00am on the 30th of August, discussing DE&I in the workplace.
About this event
oin us for a talk with Leon Pieters and Javier Leonor at 9.00am on the 30th of August
Discussing DE&I in the workplace and their work in ensuring more inclusive work environments.
About this event:
Our Breakfast Sessions Series aims to shine a light on inspiring people working in our industry and share some thoughts on engaging topics to provoke conversations that matter.
Leon Pieters
Leon Pieters is the Global Consumer Industry Leader at Deloitte. His role oversees retail, consumer products and automotive, in addition to travel and hospitability. He also serves as the Global ESG leader for Clients & Industries beyond his current role at Deloitte. Leon is a member of the Diversity & Inclusion Board of Deloitte Netherlands and is the Leader of Ethics in Consulting in the Netherlands. He is passionate about sustainability, reducing carbon emissions and supporting a resilient global food supply. In this role, he helps senior executives at major companies accelerate initiatives to address climate change.
Leon has several non-Executive Board Member roles at Workplace Pride, a global not for profit organization that fosters the inclusion of LGBT people in the workplace as well as The World-culture Museums of the Netherlands.
Javier Leonor
Javier was born in Segovia Spain and has lived and worked in many countries where he has had the chance to learn the local culture and the language. He finally found his second home in the city of Amsterdam, The Netherlands. Javier holds degrees in Telecommunications from the Universidad Polytechnic de Madrid, the Hochschule Mannheim and an MBA from the University of Amsterdam. He has been working for 20 years as an IT consultant, and since 2018 has taken on a role in the Global Inclusion and Diversity team at Accenture, where he leads the LGBTIQ+ programs, also known as Pride at Accenture. Javier is also a member of the Global Leadership Council of Workplace Pride and represents Accenture at the Partnership for Global LGBTI Equality.
Are you interested to learn more about Leon and Javier and the impressive things they have achieved so far and continue to do so as well as their view on DE&I? Sign-up today!
9.00am 30th of August