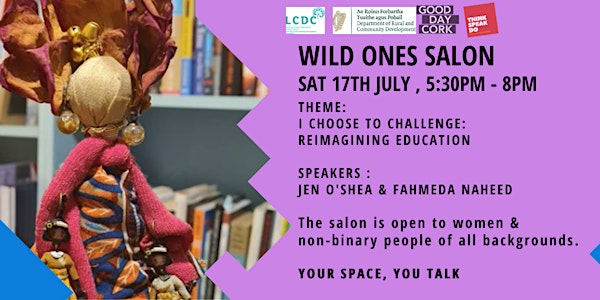 Wild Ones Salon (July 2021)
Wild Ones Salon, a relaxed conversational space for women & all non-binary people. Theme: I Choose to Challenge: Reimagining Education
About this event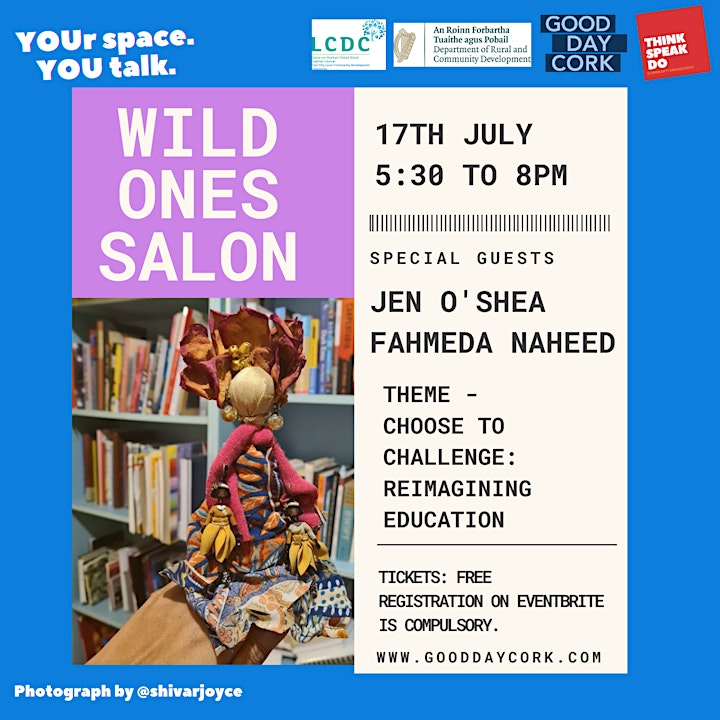 Welcome to the Wild Ones Salon!
A relaxed conversational space for women & non-binary people of all backgrounds.
Theme: I Choose to Challenge | Reimagining Education
We have two wonderful guest speakers:
Fahmeda Naheed:
Fahmeda has been living in Ireland, in Cork, on the North Side, for the last thirteen years. She is a registered teacher with Teaching Council of Ireland as a Subject Specialist for the subject of History in secondary schools.
She writes, "The Challenge is how to apply the 'Cognitive' approach into the schools so that it replaces the 'Behaviourist' approach. We need to know about the brain to involve in learning, [because] everything we say is directed by the brain."
She did her MA in History, Teacher Education, and Politics and an M.Phil. in Asian Studies from UCC, Cork, Ireland. Most recently, she finished a Cert in Mental Health in Communities from UCC. She has approximately a decade of international teaching experience, ranging from secondary school to further education.
Jen O'Shea:
Jen O'Shea is a psychology graduate, researcher, and trans woman living in Cork. She is passionate about social justice, inclusion, and trans equality, and has been involved in community-led support and activism for a number of years. Jen is dedicated to educational equity, and will speak about the necessity of allyship from peers in academia.
--------------------------------
You will hear each speaker share their reflections, and have the opportunity to engage with others. The discussions will follow a world café style.
Come as you are. This YOUR space for YOU to talk.
This is a brave space for all of us. Bring along your favourite book, music, art, or even quotes that help you challenge what needs to be challenged. Let's move towards a kind world.
We hope you leave feeling stronger in your power.
--