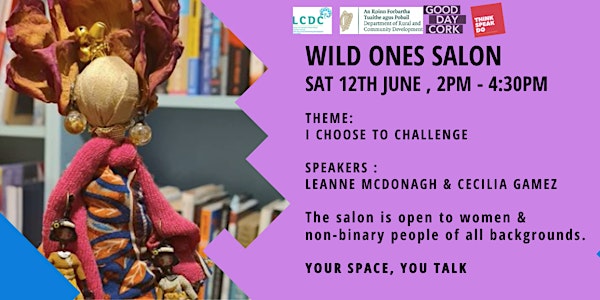 Wild Ones Salon (June 2021)
Everybody welcome to the first Wild One's Salon. A relaxed conversational space for women & non-binary people. Theme: I Choose to Challenge
About this event
Welcome to the first Wild Ones Salon!
A relaxed conversational space for women & non-binary people of all backgrounds.
Theme: I Choose to Challenge
We have two wonderful guest speakers:
Leanne McDonagh:
Leanne McDonagh is a young Irish Traveller woman and professional visual artist. She began practicing art at Crawford College of Art & Design in 2007, graduating five years later with an Honours Degree in Fine Art, as well as a Higher Diploma in Art & Design Education.
Leanne explains, "I choose to challenge a society that puts me in a box and makes assumptions about who I am and who I should be, I challenge this daily."
As a visual artist she feels she has a unique opportunity to represent and record her community from within. Through visual art that she has grown in self-awareness, and chosen to define herself rather than be defined by anyone else. Her work is an expression of herself, and is vastly influenced by her childhood memories and personal experiences, which are ultimately those of an Irish Traveller. For Leanne, art is a vehicle for self-expression and it is a type of communication that can surpass cultural boundaries and divides. Read more on her website.
(Photo of Leanne McDonagh below.)
Cecilia Gamez:
Cecilia Gamez is a travel addict, bookworm, co-founder of Mexican Community in Cork & Vice President Of The Board at Federation EIL. Having lived in Mexico and Sweden, she made Ireland her home in 2005. She is one of the founders and the General Director of PROGRAMAS EDUCATIVOS INTERCULTURALES, A.C., a unique organisation that funds social development initiatives through the promotion of intercultural exchange programs.
Cecilia explains,"I refuse to have my smile kidnapped."
With more than 35 years' experience in Education Management and Intercultural Exchange, Cecilia's work involves teaching and travelling to create awareness of how important it is to know other cultures to build peace through understanding.
(Photo of Cecilia Gamez below - wearing purple top.)
--------------------------------
You will hear each speaker share their reflections, and have the opportunity to engage with others. The discussions will follow a world café style.
Come as you are. This YOUR space for YOU to talk.
This is a brave space for all of us. Bring along your favourite book, music, art, or even quotes that help you challenge what needs to be challenged. Let's move towards a kind world.
We hope you leave feeling stronger in your power.
--