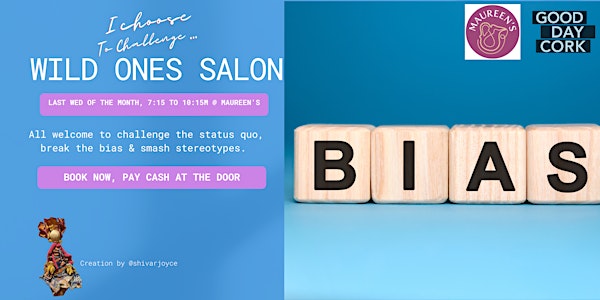 Wild Ones Salon @ Maureen's Sept & Nov
Wild Ones Salon is a place for free thinking, challenging the status quo, the stereotype, the bias - in a casual setting.
When and where
Location
Maureen's 14 Mulgrave Road T23 FT65 Cork Ireland
About this event
If you believe in equality, freedom, equity and justice then the Wild Ones Salon is for you because here we reimagine everything to change the narrative.
The last Wild Ones Salon of 2022 is on
Wed, 30th Nov, 7:15 to 10:15pm, Theme is: I choose to challenge urban planning/development
How does moving around your neighbourhood/Cork city centre affect you+your family?
How could it be better? Are you being left behind because of how the city/neighbourhoods are designed now?
How do you reimagine these spaces?
Come along for a thought provoking evening. Limited spaces - so book now, donate €5 at the door.
Soap-boxers are:
Dr. Shirley Gallagher, sustainability thinker & chairperson of Cork Environmental Forum
Bridget Forster, ex-planning barrister (UK) & retired UN Peacekeeper
Michelle Dellea, architect & poet
Louise Cotter, architect
Anna Hill, innovator + funder of River Cycleway Europe
What to expect at Wild Ones Salon?
When you enter Maureen's you will immediately be in a cozy setting. There will be tea on arrival. After you settle down, we'll introduce the theme to you.
You'll hear from a few people who're getting up on the 'soap box'. Following this, we'll have a couple of rounds of discussion, in pairs or threes, about the theme.
There will be quiet time for reflection.
We'll close with an open round. And we'll definitely keep some time aside for gentle hugs before saying 'night night!
Note to Remember:
You'll receive emails with more information about the event & event reminders closer to the time - so please keep an eye on junk/spam/promotions/update tabs in your inbox & don't miss our updates.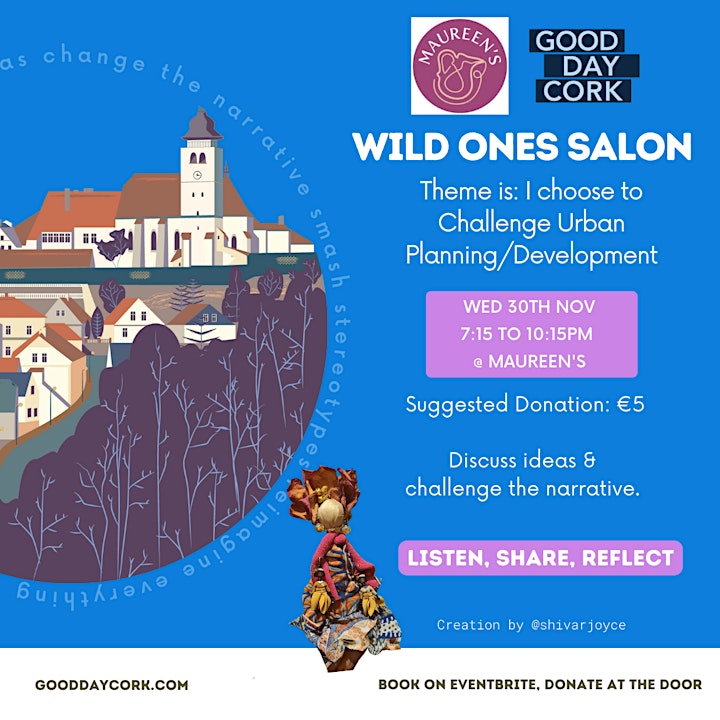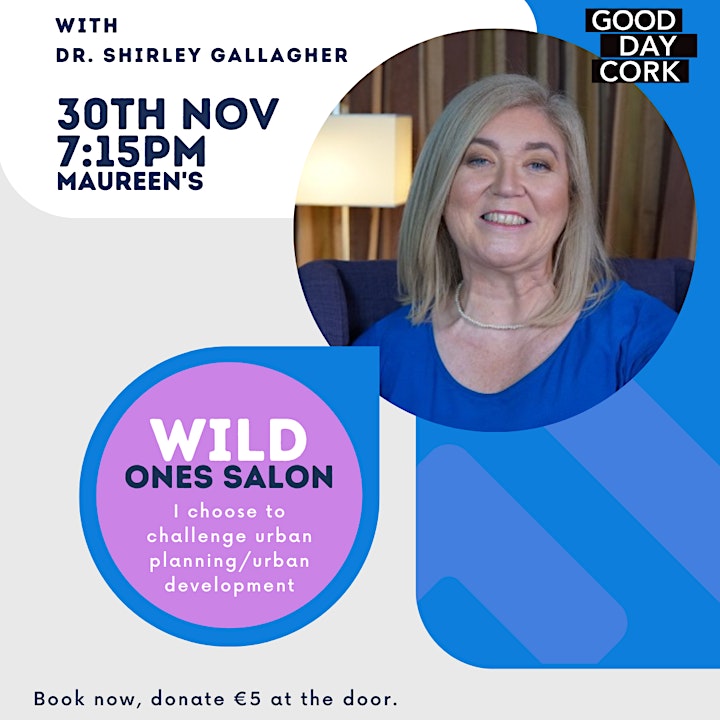 Dr. Shirley Gallagher will talk about urban decay & revitalising cities.
Who is Dr. Gallagher?
Dr. Shirley Gallagher is a big picture sustainability thinker.
She is known for helping companies and government agencies to decarbonise their systems. Dr Gallagher is a Chairperson of the Cork based Environmental Charity, CEF and a Climate Reality Leader.
Shirley initially became interested in environmental issues after the disastrous Chernobyl explosion (1986). This interest led her to gaining a PhD (Ulster University 1995) in the management and measurement of contaminants in a brown field site 'An Investigation of Polycyclic Aromatic Hydrocarbons in a Belfast Gasworks Site'.
She joined Toastmasters International to engage, enthuse and educate people in climate change.
She was a speaker at TEDxCorkWomen in 2013. Shirley remains passionate about science in every sense of the word. Living in Cork for over 20 years, she wants to explore urban place making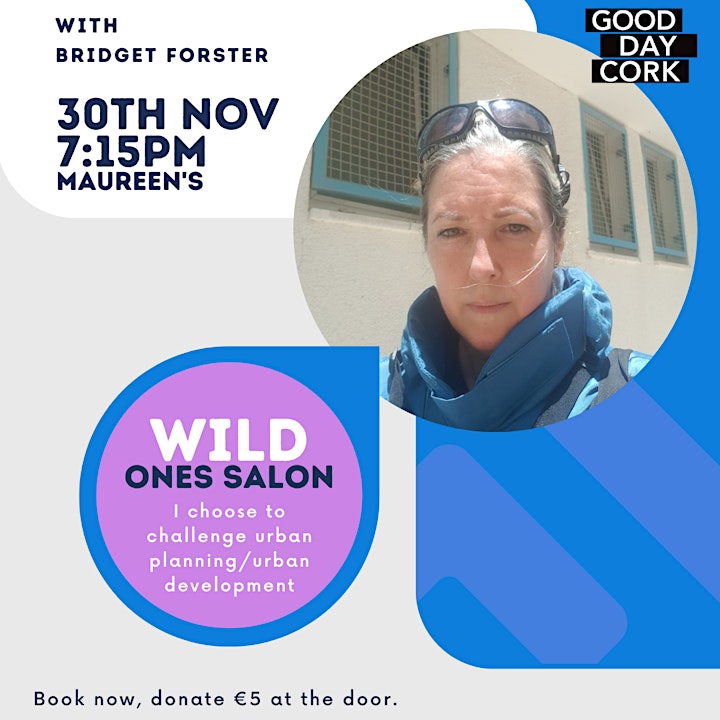 Bridget Forster will share thoughts on regeneration and tall buildings.
Who is Bridget Forster?
Bridge was a planning barrister in the UK for over 10 years and decided she wasn't making a meaningful impact in the world.
She gave it all up to work in the Middle East with the UN delivering clearance of mines and unexploded ordnance.
Bridge has recently repatriated to Cork with her Tunisian husband and is looking forward to a life in Cork with fewer explosions.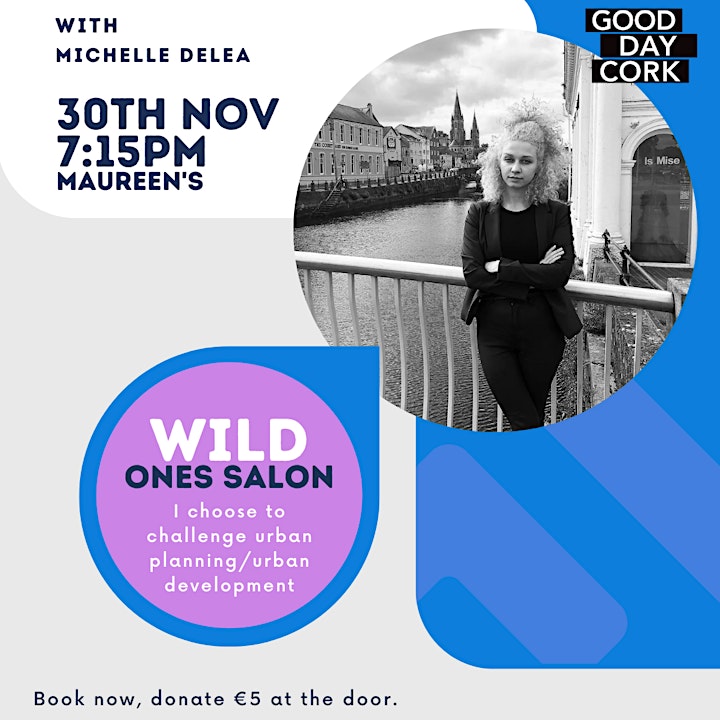 Michelle Delea will share the synopsis, process and outcomes of a documentary film she recently produced and directed, which tells the story of the BKS Traffic proposal for Cork city (1968).
Who is Michelle Delea?
Michelle is a multi-disciplinary artist from Cork city.
She has an MA in Architecture from CCAE. She has recently made her directorial debut with The Sprawling Octopus of an Elevated Highway, a short documentary film.
She has performed poetry at multiple festivals throughout Ireland and internationally. She is a founding member of DOSE, an event-based platform for music artists.
Michelle is an advocator of collaboration and maintains an experimental approach to the arts.
Photo in poster above by Ellie O'Byrne.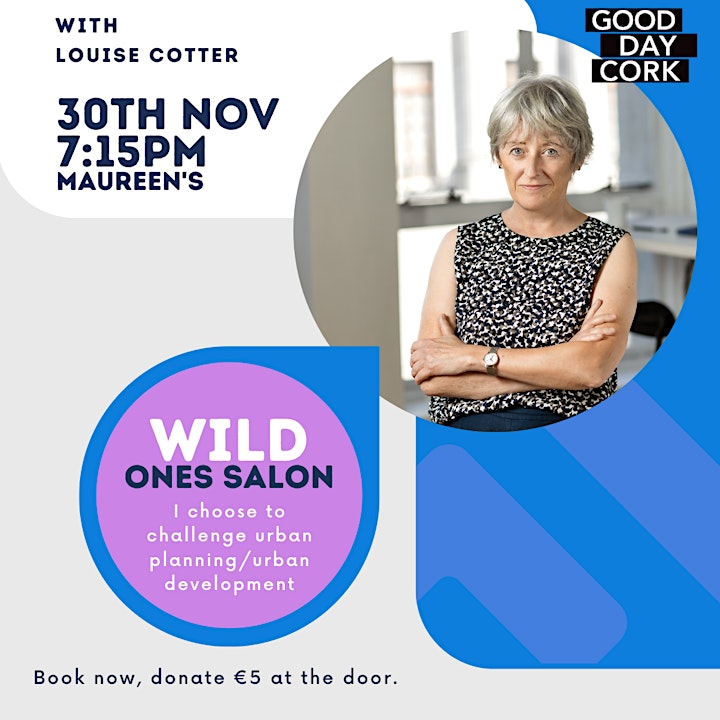 Louise Cotter will talk about resilient cities and the battle for space.
Who is Louise Cotter?
Louise is an architect with a passion for public projects that do their bit for towns and cities.
Louise has lived in Cork since 2001 and in London before that.
Louise's practice, Cotter & Naessens, is working on social regeneration projects and educational buildings in Dublin and Limerick.
Photo in poster above by Janice O'Connell.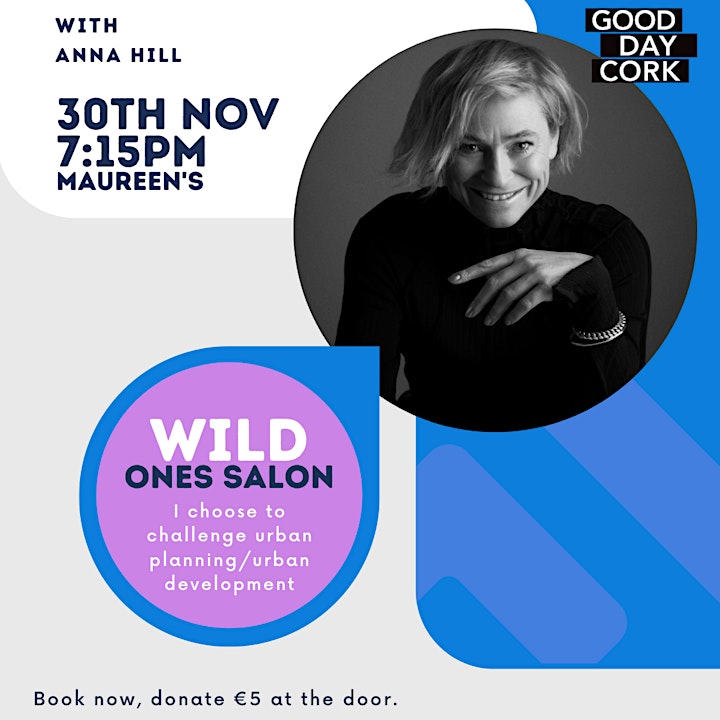 Anna Hill will talk about circular cities and climate action.
Who is Anna Hill?
Anna is an innovator, entrepreneur and founder of River Cycleway Europe.
Photo of Anna in the poster is by Amelie Troubridge.