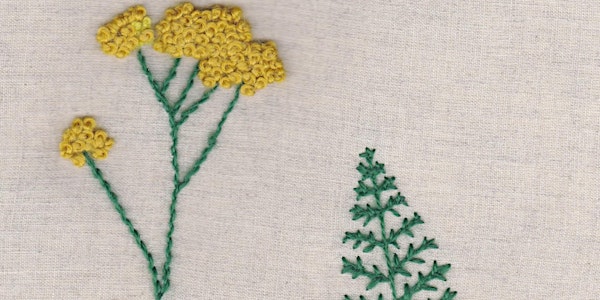 Wildflower Hand Embroidery Workshop for Adults: dlr LexIcon Gallery
Join artist Lyndsey McDougall for an online two part embroidery workshop as part of our 'Escape The City' programme.
About this event
This two part workshop is for residents of Dún Laoghaire-Rathdown County. You must be available to collect the workshop materials from dlr Lexicon Library in Dún Laoghaire.
Donegal based artist Lyndsey McDougall will deliver this two part embroidery workshop themed around wildflowers found in Ireland. In these sessions Lyndsey will provide you with step-by-step instructions for 5 basic stitches and help you design your own wildflower embroidery hoop, perfect for all levels of embroiderers. This is a chance to get together to make, relax and learn about embroidery and Irish wildflowers.
Embroidery kits will be provided by dlr Arts Office and will be available for collection from dlr Lexicon Library in Dún Laoghaire. We will notify participants when they are available for collection.
Participants will need to have a scissors ready for the workshop.
Please note that by booking this workshop you are booking the following:
10.30-11.30am, Saturday 29 January & Saturday 5 February
About this artist:
Lyndsey McDougall is an Irish artist, educator and scholar. She has exhibited her work throughout the UK and Ireland as well as internationally in Berlin, Paris, New York, Blönduós, Karachi, Oaxaca and Quebec.
She is fascinated by physical and cultural landscapes. Making work that investigates the symbiotic relationship between nature and people. She does this by studying natural formations, combining these with the craft of hand embroidery. Tying everything together is a deep desire to capture moments and interactions between people and places.
Guidelines:
For residents of Dún Laoghaire-Rathdown County, Ireland.
If materials are not collected by specified date your booking will be cancelled and place given to someone else.
Please ensure your Zoom name matches the booking to prevent being blocked from entering the session.
The Zoom link will be sent via Eventbrite 24-48 hours before the event date.
To prevent "Zoom-bombing", all sessions are password protected and the unique links and password to each individual session are only shared with those intended to participate.
dlr Arts Office will send the invite link using Eventbrite.
The email used to book this workshop will be visible to the facilitator/co-host of this workshop, you will only be contacted directly if there is a technical issue during the workshop by the facilitator/co-host. Emails will not be used for any other purpose.
The 'waiting room' feature is enabled, meaning that anyone accessing the session has to be approved by the person 'hosting' the session. We will check your name against our bookings before admitting you to the workshop. This ensures all participants have booked for the event. For this reason, please ensure your ZOOM username/profile name matches the name used to book the event.
dlr Arts Office settings do not allow for any file sharing
dlr Arts Office settings do not allow users or participants to sign in using their social media to protect privacy