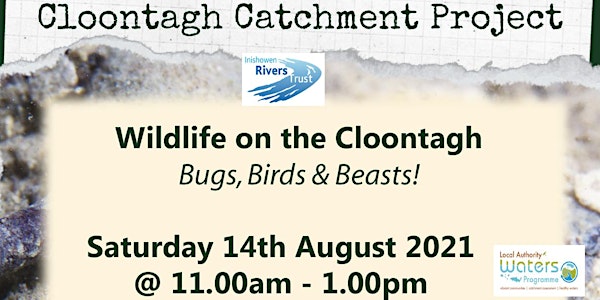 Wildlife on the Cloontagh - Bugs, Birds & Beasts!
An exploration of the biodiversity of the Cloontagh River, Clonmany, Co. Donegal.
About this event
Popular guide and ecologist Aengus Kennedy from Nature North West will lead a visit to the Cloontagh River to learn more about the wildlife that the river supports. Joined by zoologist Trish Murphy from the Inishowen Rivers Trust, this trip will look at the different animals we find living on the banks of the river and in the river or who use the river.
This event is open to families in the Clonmany and Cloontagh area. Children must be accompanied by an adult.
Venue: Fieldtrip to outdoor location To Be Confirmed
Date: Saturday 14th August 2021
Time: 11.00 am to 1.00pm
Registration is free via Eventbrite https://cloontagh-biodiversity.eventbrite.ie
Kindly funded by the Local Authority Waters Programme under the Community Water Development Fund 2021.