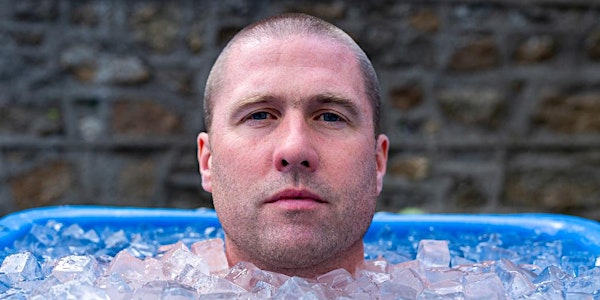 Wim Hof Method Workshop: fundamentals
You can transform how you feel, how you think and your health by learning the Wim Hof Method.
Date and time
Sun, 14 Nov 2021 10:00 - 14:00 GMT
Location
Irishtown Gospel Hall & Chapel of Ease 57 Irishtown Rd D04 CA43 Dublin 4 Ireland
Refund Policy
Refunds up to 30 days before event
About this event
Are you stressed? Tired? Sick? Or, looking for a change?
You can transform how you feel, how you think and your health by learning the Wim Hof Method. I can teach you. Then, you'll have the skills you need to live a healthier, happier and stronger life.
You'll learn how to:
Breathe fully and deeply, improving your health, giving you more energy and reducing stress
Improve your focus and determination, helping you explore and eventually master your body and mind
Use gradual exposure to the cold to strengthen your immune system, balance hormone levels and elevate your mood 
More benefits of learning the Wim Hof Method
Increased energy
Better Sleep
Heightened focus and determination
Improved sports performance
Reduced stress levels
Greater cold tolerance
Faster recovery
Enhanced creativity 
What you'll get
Four hours of expert teaching in the Wim Hof Method with me Níall Ó Murchú. I'm a level 3 certified instructor. Level 3 is the highest level of expertise awarded to instructors. I'm the only level 3 instructor in Ireland. There aren't many level 3 instructors in the world.
As well as the experience of the workshop, you'll also receive a follow-up emails that will help you integrate the Wim Hof Method into your daily life. These will encourage, support and inspire you to find time in your daily routine for a little bit of breathing and cold. That will help bring about deep and long-lasting benefits.
Schedule for the workshop
Welcome and registration
Introduction to Wim Hof Method 
Breathing exercises 
Stretching and breathing 
Focus and horse stance
Ice bath! 
Warming up 
Discussion about follow-up emails
Questions and closing the workshop
Frequently asked questions
What are my transport/parking options for getting to and from the event?
There is room for 15 cars to park around the hall. Otherwise, there is parking on some of the streets nearby.  
What should I bring to the event?
You'll need to bring a yoga / pilates mat. A towel, flip flops and swim wear for getting into the ice bath. Plus, a blanket or two. You'll need them during the breathing exercises as you'll be lying down in a well-ventilated hall with really high ceilings. It can get cold.
Please wear comfortable and warm clothes as we will be moving and stretching.  A lot of the activities will be outdoors, so come prepared.
Do I need to prepare for the workshop? 
When you sign up for the workshop, you will be sent an information pack. It would be great if you could read through that before the workshop. In that will be a cold shower challenge. Don't worry: it will take less than a minute per day to complete! Also, health and COVID declarations and informed consent forms for you to fill-out.
What about COVID protocols?
All the usual COVID protocols will be followed. We all know them by now. Plus, there are other international guidelines on ice baths. All of these will be explained at the beginning of the event.
How do I practise the method safely?
The breathing exercise has a profound effect and should be practised in the way it is explained. Always do the breathing exercise in a safe environment (e.g. sitting on a couch/floor) and unforced. 
Never practise the exercises before or during diving, driving, swimming, taking a bath or in any other place where, should you pass out, a serious injury could occur. Wim Hof breathing may cause tingling sensations and/or lightheadedness.
The cold is a powerful force. We strongly advise to gradually build up exposing yourself to the cold. Always train without force and listen to your body carefully. If it is not practised responsibly, there is a risk of hypothermia.
Do not practise the method during pregnancy or if you're epileptic. People with cardiovascular health issues, or any other (serious) health conditions, should always consult a medical doctor before starting the Wim Hof Method. 
About the organiser
We can transform how we feel and think by using our breath, nature and the cold. It has worked for many, many people around the world, including me: helping me become a better father, a better husband and a better person. That is why I have dedicated the past 20 years to helping people find natural ways of restoring and improving their strength, health and happiness.
A few quick facts about me:
Wellness expert with over 20 years of experience
Author of the best-selling book "The Blissful Breath"
Certified Level 3 Wim Hof Method instructor. Level 3 is the highest level of expertise awarded to instructors
Teacher of coherent breathing and Breath-Body-Mind techniques
Herbalist
Expert in shamanic healing
Ceremonial cacao facilitator
Teacher of reiki
Former international athlete
Host of The Breathe With Níall Podcast
You can find me on: