Walk in My Shoes is hosting a webinar to provide information and guidance to parents on supporting their children's mental health.
About this event
At Walk in My Shoes (WIMS), we know that raising children brings a lot of joy and love to our lives, but it can also raise challenges. Parents are constantly trying to balance the day-to-day risks, worries and changes in their children's lives, while trying to keep their young people emotionally and mentally healthy.
These challenges are perhaps never more pronounced than in difficult times such as the COVID-19 pandemic. In fact, a recent survey of parents that we carried out in partnership with the National Parents Council (NPC) found that close to 20% of children received mental health support during the pandemic and 53% of parents are concerned about the long-term impact of the pandemic on their children's mental health.
With this in mind, we are delighted to present a webinar designed especially to help parents with insight and advice on supporting their children's mental health. The webinar will reflect some of the needs uncovered in the survey, such as finding ways to help children deal with anxiety and isolation.
Chief Executive Officer (CEO) of St Patrick's Mental Health Services, Paul Gilligan will open the webinar by speaking about building psychological resilience in children. Áine Lynch, CEO of the NPC, will also give a presentation on the day. Cliodhna McDonnell, Founder of Doing the Best We Can, a peer support network for parents and guardians, will talk about the service, its benefits, and who can access it.
The webinar is free to attend and is open to parents to young people of all ages, but will be particularly useful for those whose children are of primary school age.
Registration is essential, with a link to join being sent to attendees ahead of the scheduled time.
For more information, or to let us know of any accessibility requirements you may have in attending this event, please email info@walkinmyshoes.ie.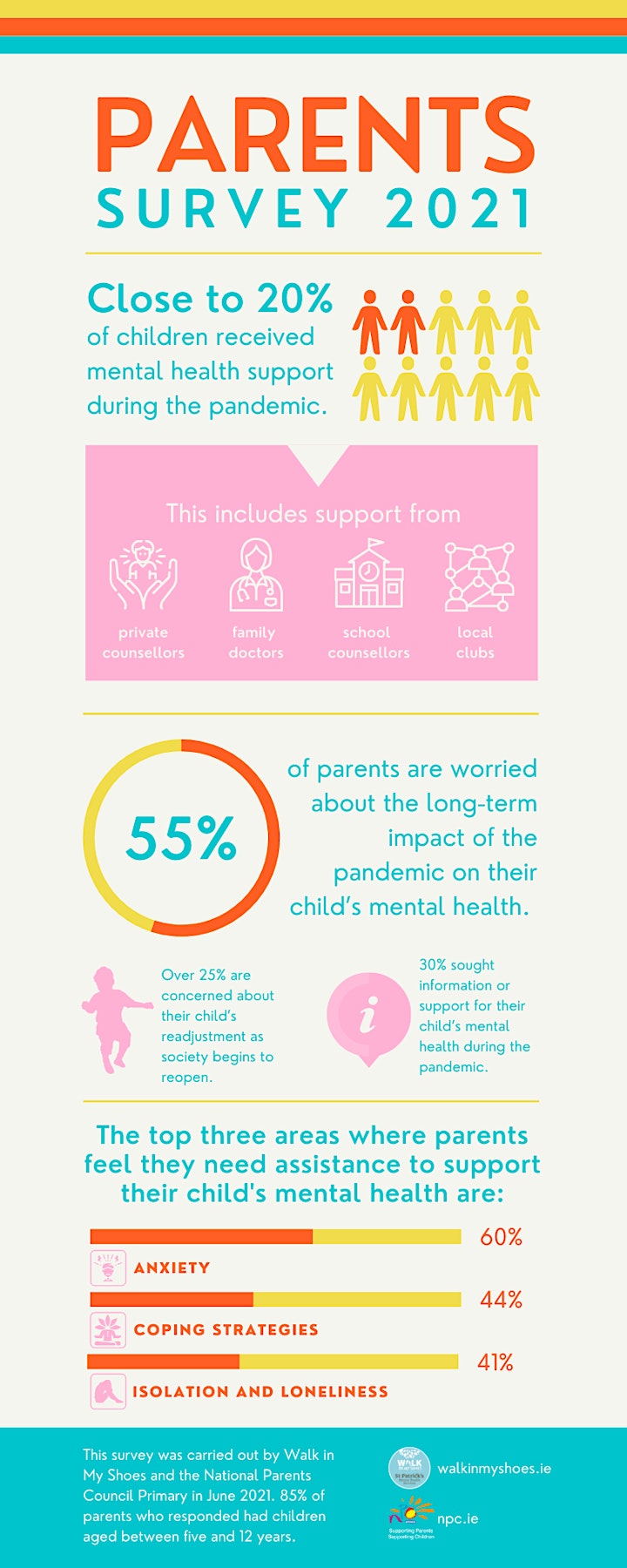 Organiser of WIMS Parent Webinar: Supporting your child's mental health