Winner best Social Media Consultant Leinster will train you to sell online!
Learn how to increase sales, build communities make graphics and videos for your online business in just 2 hours with Samantha Dooley!
About this event
PLEASE NOTE this starts 7pm Irish time finishes at 9pm with time for Q and A's after wards.
I want you to succeed!
Samantha Dooley holds a Masters in Business Management a degree in Management and Level 7 *degree level* in Digital Marketing, a Bachelors in Entrepreneurship and start ups and has over 7 years digital marketing experience.
Samanth Recently WON Best Social Media consultant in Lienster Dublin Ireland for 2021 in the Irish EU Enterprise Awards.
Samantha is also a member of Smart Insights and is highly skilled in business strategy, but thats another course :)
She has worked primarily with start ups and has many success stories.
Samantha is the real deal, and her information will get your business flying online if you follow her instructions.
Based in Ireland, her methods and models can be used anywhere in the world.
Samantha is a trainer at private colleges, the Irish Pharmacy Union digital marketing consultant, has consulted for Renault, many small businesses like hairdressers and small construction companies, she currently lectures in Irelands ETB's, a government body teaching practical courses to students to get them job ready.
This 2 hours program will teach you about the new facebook and instagram changes. It will teach you how to make professional graphics and videos, and yes you will make them. This is not a training session to sit back and take notes. This training session is going to turn you into a YES I CAN person. And kickstart your business into the online hemisphere.
Im Samantha Dooley and I am here to get your business working and visible online through 5 basic methods.
Undserstanding SEO, Working with the new FB and IG platforms, Discussing the other social media platforms, What works for your business may not work for another.
Understanding UX design, what is it and how can we apply it to social media.
And finally Do you need a website?
You will finish so much happier and with a deeper understanding. Read all the reviews my students say in eventbrite, facebook, google and linkedin review sections.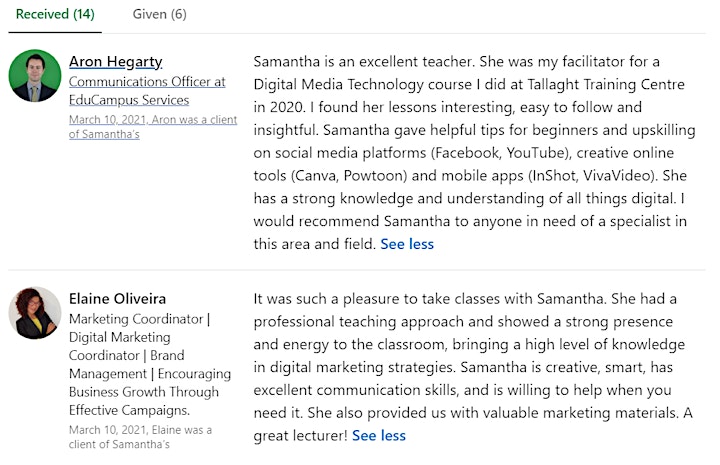 Date and time
Location
Refund policy
Organiser of Winner best Social Media Consultant Leinster will train you to sell online!