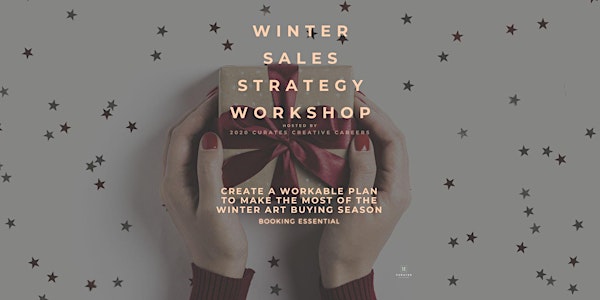 Winter Art Sales Strategy Workshop
Create a workable plan to make the most of the winter art buying season. This workshop is for visual artists who want to sell their artwork.
About this event
Are you a visual artist who wants to make the most of the Winter art buying season?
Do you want to make the season as stress free as possible?
Are you unsure where to start with making a plan that's just right for you and your work?
Then this workshop is for you!
The workshop will provide you with tips and advice on how to:
Choose what to sell to maximise opportunities for revenue
Select the best venues to sell at
Strategies for marketing and presenting your work
INCLUDES WORKBOOK
At the end of the session you'll be armed with the information you need and a plan to reach your goals for the season ahead. On top of that, you'll already have started actioning that plan. So, you'll be off the starting blocks.
About Me & 2020 Curates Creative Careers
Hello! I'm Sheelah. I have over15 years experience in the world of art exhibitions and art sales. 2020 Curates Creative Careers offers support, professional practice & digital tools to help artists to sell their work. Art is my passion, underpinned by years of experience in running a gallery and in buying and selling artworks. My goal is to share my knowledge & offer my skills to those working in the creative industry. My services are designed to empower artists to thrive and make a living from their output.