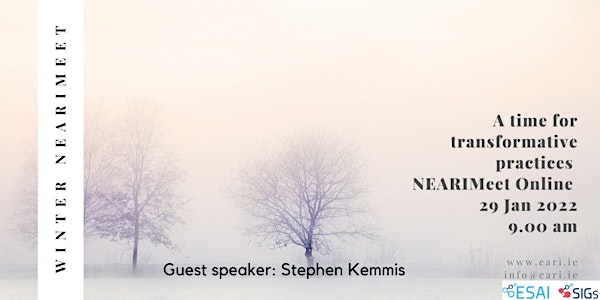 Winter NEARIMeet 2022
This is going to be a wonderful NEARI Network meeting on the theme of 'Transforming Practices' with guest speaker Stephen Kemmis.
About this event
Stephen Kemmis is Professor Emeritus of Charles Sturt University and Federation University, Australia. He studies the nature and transformation of practices, principally in education, and pioneered the development of the theory of practice architectures. He writes on education, critical participatory action research, higher education development, research approaches, and Indigenous education. He is a co-founder of the Pedagogy, Education and Praxis international research network including researchers from Australia, Finland, the Netherlands, New Zealand, Norway, Sweden, Colombia, and the Caribbean. He has held university appointments in Australia, the USA, and the UK, and has been a visiting scholar at various universities internationally.
This event will take place on January 29, 2022 at 9.00 am local time in Ireland. Please book a place and a link to the NEARIMeet will be sent to you before the event.