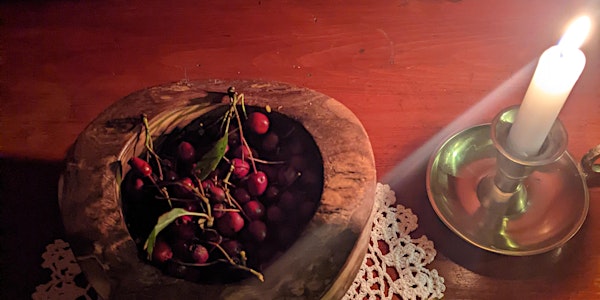 Winter Solstice Gathering- make Haw Brandy & Haw Gra Balls and more...
Celebrate winter wellness: an exploration of the heart with Hawthorn. Make Haw brandy & Haw Gra Balls and learn about other healing herbs
Date and time
Wed, 21 Dec 2022 19:00 - 21:00 GMT
Location
Dr Clare Apothecary & Clinic 9 Sea Road H91 C9YA Galway Ireland
Refund Policy
Refunds up to 1 day before event
About this event
An invitation to restore, reconnect & reimagine our herbal traditions.
Reimagining Hawthorn as a way to reconnect with our landscape and support us through winter
beginning with a Winter Solstice gathering.
Restoring ancient traditions can allow for gentle healing through winter. Medicinal plants can
support us through winter and remind us how to slow down, keep grounded and focused on our
heart and wellbeing. This is a chance to avail of the plant's energy that is sent underground to its
roots; a time for us to hunker down and imagine our reawakening as we look forward to Imbolc. It
is symbolically a reminder of those that went before us who were returned to the earth, the
darkness or the world beyond the margin of what we perceive. The winter Solstice marks a time in
the astronomical calendar for us to gently reawaken with the gradual lengthening of the day and
become more in tune with our circadian rhythm. The more we are connected with our ancient
traditions and remembrance of the ways of our ancestors the more rooted, grounded and
reassured we feel. We do not have to relive the traditions of the past but rather recreate our
relationship with nature as we renegotiate our path forward during this time of great shift.
I would like to consider Hawthorn to recreate a story that will be meaningful to all our communities.
We will explore the idea of the heart and the heart beat as opposed to the breath which is the focus
of yoga and eastern traditions. As a society, we tend to look outside, beyond our borders in our
quest to grow spiritually. There has always been exchange and cross fertilisation of ideas from
other cultures and traditions which is of huge value, however, if we reexamine Hawthorn as a
quintessential Irish tree of our landscape, it has the potential to unlock great love, hope, strength
and spirit…by synching our own heart beat with the rhythm of nature. So, we will focus on
heartbeat rather than breath. We will also look at the idea of boundaries and how Hawthorn can
represent that, how do we protect our own heart from ache? A tree such as hawthorn can awaken
our own creative process, it can be a portal to poetically reimagining our future and establishing the
continuation of traditions for those come after us.
In herbal medicine the hawthorn is a great ally for those with ailments of the heart. Herbs work on
an energetic, emotional and physical level; an exploration of Hawthorn can support us navigating
through the dark as we look after our hearts and give ourselves the love we need through the
winter months. A combination of the the hope December 21st brings, with the heart warming gifts
of Hawthorn can accompany us to Imbolc, ready to celebrate the great Brighid.
Practical activity:
- Demonstrate how to make haw brandy and give a little taster.
- Make Grá Balls (very easy & participants could get involved) using haw berry infused brandy or
syrup for those who don't drink alcohol.
Give examples of other uses of the berries e.g. haw ketchup, haw jelly etc.
Dandelion root beverage as a way to demonstrate how this bitter can aid sluggish digestion
during the cold, dark months.
I see this as an introduction to future workshops of the Celtic quarterlies which is why I allude to
Brighid as it is a natural follow on from this and hopefully would encourage participants to return for
a celebration of Imbolc.
About the organiser
Denise Heeley is a Community Herbalist who is committed to sharing her love and knowledge of
the medicinal power of plants. Her workshops are a calling to those interested in exploring the
healing power of herbs to step forward and rebuild the stores of knowledge and practices that were
part of our way of life until not so long ago