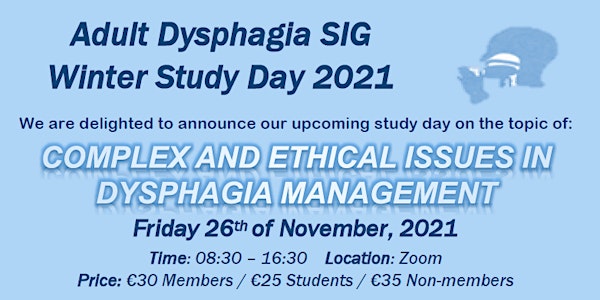 Winter Study Day, 2021- COMPLEX AND ETHICAL ISSUES IN DYSPHAGIA MANAGEMENT
We are delighted to announce our upcoming study day on the topic of: COMPLEX AND ETHICAL ISSUES IN DYSPHAGIA MANAGEMENT
Refund Policy
Contact the organiser to request a refund.
About this event
The management of dysphagia is complex and involves the consideration of many ethical, social, cultural and legal issues. Decision-making in dysphagia must respect a patient's preferences values, culture, and quality of life.
The aim of our event is to support our SLT members in using advanced professional knowledge, clinical judgement, ethical reflection, and evidence-based practice when making these complex dysphagia-management decisions.