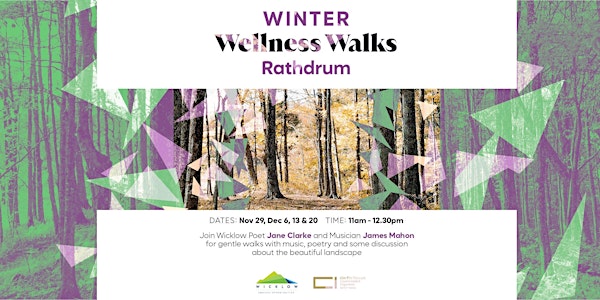 Winter Wellness Walks with Poet Jane Clarke and Musician James Mahon
Take a relaxing light walk in woodland settings in the Rathdrum area with poet Jane Clarke and musician James Mahon as your guide.
By Wicklow County Council
When and where
Date and time
Mon, 13 Dec 2021 11:00 - 12:30 GMT
Location
Memorial Park , Rathdrum Deer Statue Ballese Lower Rathdrum Ireland
About this event
THIS WALKS MEET UP AND CO_ORDINATES:
On Monday at 11am we will meet at the Brockagh Woods car park, beside St.Kevin's Church, Laragh. Here is the link: https://www.google.ie/maps/@53.0082907,-6.3032836,15z
These walks are in the Rathdrum area and are 3km - 5km in duration.
These walks are physically beneficial but they are also developed to help
people relax in the outdoors and experience an activity in a group. The walks will encourage people to look at surroundings in a way they may not have been aware of and integrate poetry and music into people's everyday experiences.
Adults of any age are welcome, the walks are gentle and the experience will be
inclusive led by poet Jane Clarke who has extensive facilitation and community
engagement experiences. The walks will also be accompanied by a
steward.
The walks are designed for adults and have moderate terrain underfoot. They are not
suitable for buggies or toddlers, but babies in slings welcome. Please wear waterproof clothing and suitable footwear.
This inititiative is free, brought to you by Wicklow County Council's Culture
Team funded through the Creative Ireland Programme. Supported
by Wicklow Local Sports Development Partnership, County Wicklow Partnership's
Outdoor Recreation Officer, the Healthy Ireland Coordinator and the Heritage
Office.
There are four walks in the series, you can opt to join one or register for as many as you can attend. If for any reason after booking you cannot attend please release your ticket by checking in and returning it so that another person might avail of it.
Conditions:
Suitable clothing and footwear required.
All attendees should ensure that they do not attend if they symptoms of Covid-19 or respiratory illness on each day of attendance.
There is a maximum of 12 walkers per group. Walks will be moderate in pace and be one hour and a half's duration.
You will be emailed with the location and trail for each walk after your booking confirmation.
About the organiser
Wicklow County Council Culture Team led by Wicklow Arts Office is delighted to present this event.