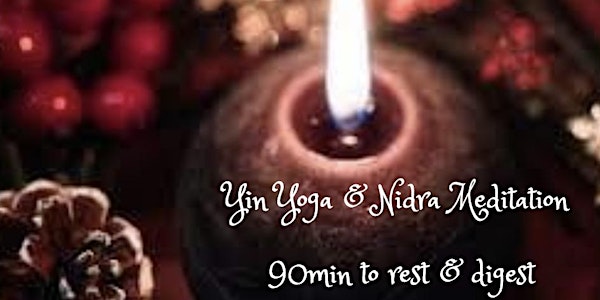 Winter Yin Yoga & Yoga Nidra 90min of deep rest (€17)
A Gift for your nervous system. Sink into deep rest & relaxation with 90min of Yin Yoga & Nidra Meditation.
Refund Policy
Contact the organiser to request a refund.
About this event
December can be a time of noisy media filled days. A time of hightened advertising.
Breathe....
Take a pause for yourself to feel safe and calm.
The 90min evening session will be a chance to reconnect back to yourself through the beautifully simple but profoundly healing practices of Yin Yoga & Nidra Meditation from the cosiness and comfort of your own yoga nest.
What is Yoga Nidra Meditation? A guided meditation also known as Yogic Sleep or Effortless Relaxation with intention setting (Sankalpa). In YNM we surf between states of wakefulness & sleep. The body finds its natural state of equilibrium, the breath balances, conscious and unconscious aspects of the mind reveal themselves and we fall into a state of deep rest and blissful awareness
What is YIN - Yin is slower paced yoga style than we may be used to, holding each pose passively for a longer period of time (5min). All poses are done on the ground. Yin is a deeply meditative practice. It is an excellent practice to help with sleep. It can be more challenging mentally than physically.
Inviting bliss in to our whole-being as we end with pure silence & stillness.
Duration: 90min (please allow time for the session to be longer than 90min ...)
Self-Investment: €17
The price of the session is €17. Note, an Eventbrite fee is added to the ticket if you buy on Eventbrite. Feel free to buy directly from us with no fees, simply drop us an email: ancientsoulhealing@gmail.com
I look forward to sharing with you, Aoife x
ABOUT YOUR FACILITATOR:
Aoife is an Irish yoga and mindfulness facilitator based in Ireland and Spain. She is a qualified teacher of yin yoga, hatha yoga, pranayama and meditation, yoga nidra, chair yoga and kids/family yoga having trained with many teachers in India and Europe. She teaches weekly classes and throughout the year offers yin yoga, nidra meditation and sound healing sessions in person and online. Her sessions are an enriching practice of 'acceptance of self' through movement, breath and meditation.
TESTIMONIALS:
Aoife is a wonderful yoga teacher. Her kind and gentle nature brings so much to her classes.She makes every class so enjoyable for all abilities offering guidance and teaching acceptance. I love the 'no pressure' aspect of her class and always leave feeling more centred. I love all her different classes and feel very lucky to have found her. (Georgina)
Aoife is a fantastic teacher, her classes provide a calm, welcoming atmosphere to practice yoga in a way that suits each individual. I've been attending regularly for a couple of years now and both the indoor and outdoor classes are a great way to develop your yoga practice, relax and feel part of a community. The highlight of my week! (Sinead)
Aoife Moore is a fantastic yoga teacher and I would highly recommend her classes. She is very skilled at delivering a yoga class that is effective, relaxing and joyful. She also tailors each class so that beginners and experienced class members can always find an appropriate level to practise at. I have been attending her classes for over a year and I always feel more grounded and relaxed afterwards. She is particularly skilled at guiding meditation and breathing techniques- I feel like I float out of the class afterwards! (Lise-Ann)
I have been practising yoga with Aoife for about 3 years now. Aoife has a beautiful personality which shines like a beacon and sets the calm tone in her classes. Along with her evident knowledge of all things yogi her little sense of humour and endearing trait of mixing up left and right add to the package and I'm always relaxed and calm after her class. (Nuala).
Aoife is a wonderful yoga teacher. I was new to yoga but she gave clear directions and I never felt out of place. She has a very calming voice and she ensures variety of movements that keeps the class interesting. Aoife obviously has years of experience and a passion for yoga which comes across in every class. She is an absolute professional! (Suzanne)
For more testimonials visit: here