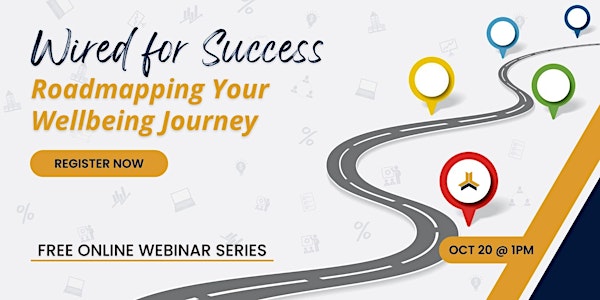 Wired For Success: Roadmapping Your Wellbeing Journey
Our second event in a series of Free Webinars connecting the Personal, Professional and Organisational for all-round Success
About this event
Our October webinar is designed to expand on the initial exploration of 'The Wellbeing Formula', by enticing you to start Roadmapping your own Wellbeing Journey privately and with your colleagues in the workplace.
What will you learn?
Key statistics around Mental Health and its implications in Ireland, across EU and further.
Your will learn about the importance of language, compassion, modelling and advocacy in the workplace.
The Pressure Performance Curve will cause you to think twice about 'stress' and slipping in to 'burnout'.
The place of Mindfulness and Breathing in recalling your personal power and responsibility for looking after your own mental wellbeing and that of your colleagues.
The Potential at Work Toolkit which offers a step by step guide to using that untapped potential in your workplace towards engaging employees in Wellbeing Initiatives that will stick and become the catalyst for individual and collective growth.
Introduction to WRAW – Workplace Resilience and Wellbeing – a psychometric instrument which examines resilience across the pillars of Energy, Future Focus, Inner Drive, Flexible Thinking and Strong Relationships. How would you or your Team rate? What can you do about it?
Outline of Various packages offered to workplaces by Teresa and Cindy in their respective practices
TAKE-AWAY: FREE WORKBOOK: Roadmap Your Wellbeing Journey and Recommended Reading List
Join us on October 20th @1pm – REGISTER NOW
Try this months FREE Wellbeing Formula Calendar as a route to knowing yourself that little bit better in advance.
Establishing a clearly defined purpose in life and work offers direction, traction, anchorage, a framework within which to battle and overcome challenges encountered and triumph. Inspiring you to optimise your potential on every level of precious life is our raison d'etre here at Total Human Capital.
Life without a clearly defined purpose is a life in freefall, rudderless and aimless, prone to unexpected mishaps, chaos and difficulty in re-tracking in times of misfortune.