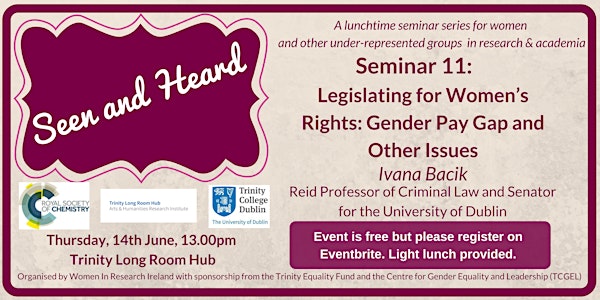 WiRI Seen and Heard Seminar with Ivana Bacik
Location
Trinity Long Room Hub, Trinity College
Dublin
Ireland
Description
This public seminar by Senator Ivana Bacik 'Legislating for Women's Rights: Gender Pay Gap and Other Issue' as part of a series entitled "Seen and Heard."
Senator Bacik will discuss her career in politics and her pivotal role in Irish society. She will describe her work as a student in 1983 to repeal the 8th amendment and its implications, as well as her current work to eliminate the gender pay gap in Ireland
About Ivana Bacik
Ivana Bacik is a barrister and Reid Professor of Criminal Law, Criminology and Penology at Trinity College Dublin. She is a Senator for Dublin University (elected 2007, re-elected 2011 and again 2016). Her research interests include criminal law; criminology; feminist theory of law; human rights and equality law. She co-authored a major study on gender in the legal professions (Bacik, Costello and Drew, Gender InJustice, 2003), and her other publications include Kicking and Screaming: Dragging Ireland into the Twenty-First Century (O'Brien, 2004) and Legal Cases that Changed Ireland (co-edited with Mary Rogan, Clarus Press, 2016).

The series is organised by Women in Research Ireland with Trinity College's Centre for Gender Equality and Leadership and the Royal society of Chemistry.