About this Event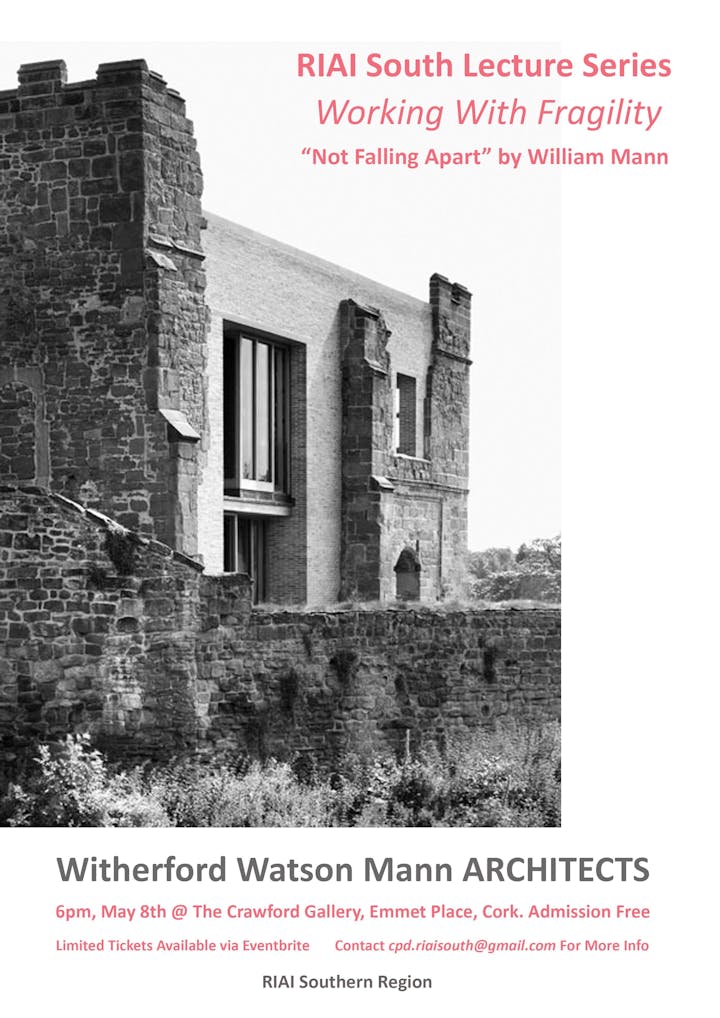 For the final lecture of the RIAI Southern Region lecture series, titled "Working with Fragility", William Mann of Sterling Prize winning architects Witherford Watson Mann will deliver a key note lecture in Crawford Gallery, Cork.
Mann will discuss his studio's work under the theme of working in historical contexts and fragile environments.
This lecture will take place at 6pm on May 8 th 2019 in the Crawford Gallery, Emmet Place, Cork.
This lecture is free admission and all are welcome. Due to the limited capacity of the venue, guests must book their ticket in advance via EventBrite. It is anticipated that there will be high demand for places for this lecture so guests are encouraged to book their tickets early.
Further Information:
Witherford Watson Mann Architects
"We started off our collaboration, nearly twenty years ago, with a series of walks through the edges of London; since then, we have approached every project as an open-ended enquiry. We have no stock answers for how the change that our clients seek will translate into building; instead we find out through dialogue and adaptive design, helping progressive institutions realise their ambitions and reinforce their values. Whether adapting an old furniture factory for Amnesty or shaping the city plan for London's Olympic quarter, we have always made the most of what is already there, adding judiciously to maintain the distinctiveness of each place but transform its capacity. We are now a small, skilled studio of seventeen, with Stephen, Chris and William still closely involved in the design and delivery of all projects.
Our best known building, Astley Castle for the Landmark Trust, won the 2013 RIBA Stirling Prize for its distinctive entwining of past and present. A minimal new structure salvages the historic remains of the castle, and makes rooms enriched by eight centuries of change. The project shows our inventiveness, our care and craft, and our ability to guide a client somewhere they wanted to go but weren't sure how to get to.
The way we work – patiently, openly and collaboratively – equips us for a wide range of projects. We have built social housing, cultural buildings and public spaces, and prepared strategies for the renewal of large urban areas. We are currently designing for higher education, for small businesses, and for older people. We distil the complexities of contemporary collectives, of urban sites and public processes into durable, economical solutions that remain open to future change."
WILLIAM MANN – DIRECTOR
William Mann studied architecture at the University of Cambridge and Harvard, graduating in 1991. After working on archaeological sites in Rome and Egypt, he gained professional experience in London and Flanders, including at Tim Ronalds Architects. At Robbrecht en Daem Architecten, Ghent, he was joint project architect for the new concert hall and opera house in Bruges. Since establishing Witherford Watson Mann Architects, he has worked as project director on a range of public projects including the Whitechapel Gallery, Upper Lea Valley Landscape Strategy, Gistel social housing and Walthamstow Wetlands. William has written on London's edge landscapes, social engineering, self-build, buildings' nicknames, and the hybrid urbanism of Flanders for Archis, Oase and other magazines, as well as contributing chapters to several books on the relation between urban regeneration and social change. He was visiting professor at the Royal Academy of Fine Arts,
Copenhagen in 2014.
http://www.wwmarchitects.co.uk/