Refund policy
Refunds up to 1 day before event
Learn to use your cycle to your advantage! Understand yourself better, learn practical tools to navigate through your emotions.
About this event
How about appreciating the gift of your female rhythm and flow with your cycle instead of being AGAINST it?
Learn to use your cycle to your advantage, by learning about what is happening during the month, and how certain patterns are repeating. You will get to understand yourself better and will know how to support yourself.
Knowing all this information will transform your life tremendously!
Believe me. It's actually MUCH easier than you think.
And I'm here to show you exactly how to see your cycle as a gift. In Only 2,5 hours!
In this workshop Woman's Cycle - Love the Woman You Are you're going to learn about:
✅ Your Monthly Cycle
✅ Four Phases and how they impact us emotionally, mentally and physically
✅ How our emotions change during the cycle + practical tips on how to support yourself through this process
✅ Understand what is happening the week before your Menstruation - How to ease of the discomfort and emotional rollercoaster
✅ Practical tools to start applying into your life immediately, no matter which phase you are on
✅ When is the best time to start changing your old habits, present your ideas, ask for an increase in your salary, talk with other people about sensitive topics or difficult subjects, meditate, and much more.
BENEFITS
💜 It will bring more understanding and harmony in your life and relationships.
🧡 You will feel empowered, understood, and supported.
💛 You will feel better, understand yourself better, and be more kind to yourself.
It's time for you to LOVE THE WOMAN YOU ARE!
P.S. Click the button to book your spot now.
* Special Price if you register before June 19th.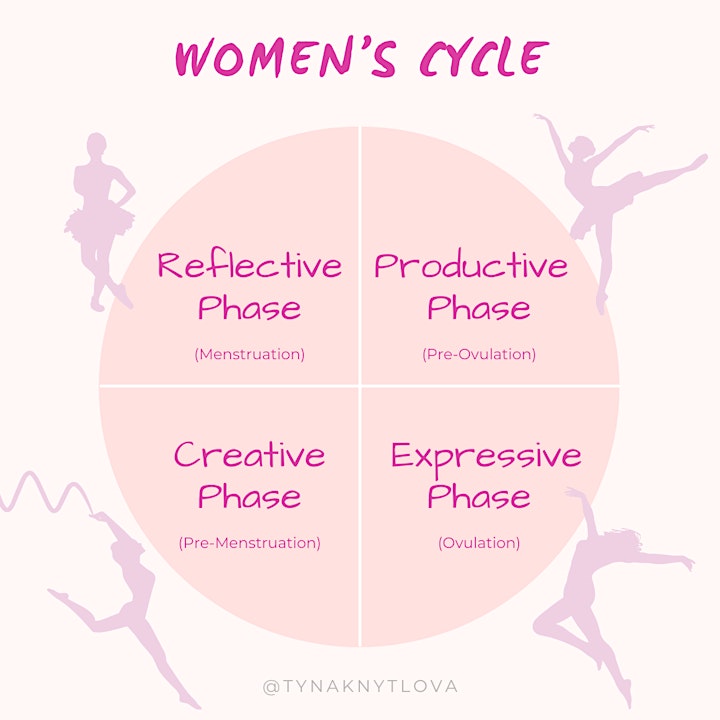 WE CAN DIVIDE OUR CYCLE INTO FOUR PHASES:
♡ Menstruation
Reflective Phase - wisdom, stillness, deep states of meditation
♡ Pre-Ovulation
Productive Phase - organization, planning, getting things done, learning new skills
♡ Ovulation
Expressive Phase - support, socialising, group work, communication
♡ Pre-Menstruation
Creative - inspiration, creativity, using your mind creatively
Each phase lasts approximately one week, it differs slightly from woman to woman, and from month to month. And in each week of our monthly cycle, we possess different abilities.
Journal entry
Today is the first day of my productive phase and I feel I have lots of energy. But I didn't take time to plan and organise, I haven't decided where I want to focus my energy or what I want to do with it, and it feels very intense. I feel easily irritable, putting expectations on myself, others, and get annoyed if things are not the way I want them.
It is very important to be aware of these changes because once we become aware of what is happening, we do not have to be the victims of these weekly changes anymore. We will take our power back and learn to use it to support ourselves, our projects, family...
When I started studying my monthly cycle and applying this wisdom into my life, I immediately started seeing results. I started feeling more confident and enjoying these changes. Instead of being annoyed or affected by them, I use them to my advantage!
I feel so grateful for this wisdom and awareness around my cycle. I believe every girl and woman in the world deserves to know about this, to live a healthy, happy, and fulfilled life as a Woman.