In recognition of St. Brigid's Day, the Embassy of Ireland is hosting a panel discussion on Women and the Future.
About this event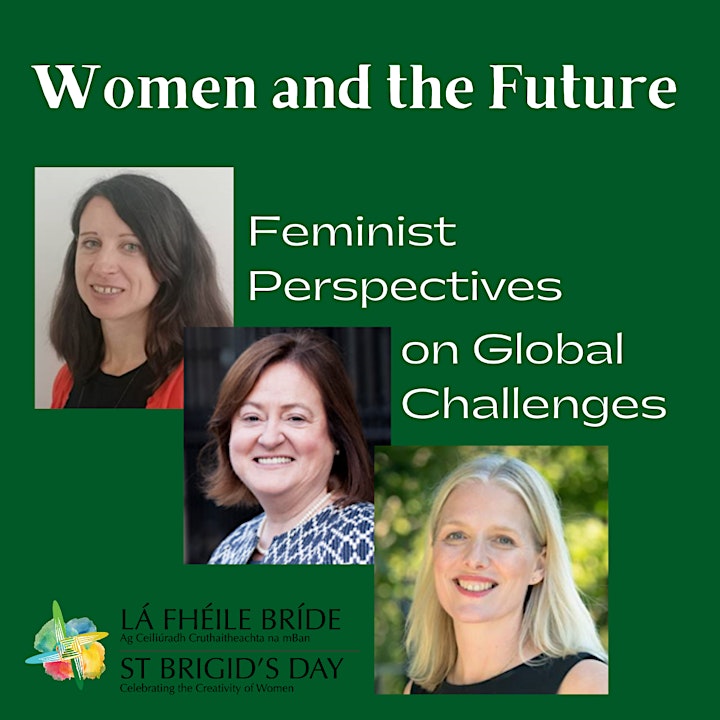 Join the Embassy of Ireland as we host Dr. Gráinne Healy, chairperson, facilitator, researcher, evaluator, trainer, and social inclusion projects manager; The Honourable Catherine McKenna, Distinguished Visiting Fellow with the Center on Global Energy Policy (CGEP), Columbia University; and Karol Balfe, from ActionAid Ireland in a discussion on current global challenges, and the impact that women are having and can have on finding solutions.
Karol Balfe
Karol has worked in the fields of international human rights, development, and peacebuilding for nearly 20 years. Before joining ActionAid, Karol had worked for 9 years with Christian Aid as Global Head of Peacebuilding, Head of Programmes, and as an Adviser on Governance, Human Rights and Peacebuilding. She has also worked with Amnesty International Ireland and with Oxfam.
Karol has a Masters in Globalisation, and she has worked with a range of civil society partners and communities in Africa, Asia, the Middle East, and Latin America.
Dr. Gráinne Healy
Dr. Healy is a wearer of many hats! She is a successful chairperson, facilitator, researcher, evaluator, trainer, social inclusion projects manager. Dr. Healy is a leader in the social justice sector. She is also a campaigns expert and a published author. Dr. Healy's areas of expertise include: gender equality, LGBT rights, violence against women, leadership skills, and strategy and social inclusion in Ireland and the EU. She was the Co-Director of the Yes Equality Campaign in 2015, which won the referendum on marriage equality for same-sex couples.
Dr. Healy has a number of degrees, including a PhD from Dublin City University – 'Exploring the Meaning of Civil Partnership for Same-Sex Couples in Ireland.'
The Honourable Catherine McKenna
Catherine McKenna is the founder and principal of Climate and Nature Solutions. She was the Member of Parliament for Ottawa Centre from 2015-2021. While in Parliament, Catherine served as a Cabinet minister: she was Minister of the Environment and Climate Change from 2015-2019 as well as Minister of Infrastructure and Communities from 2019-2021. Catherine was a lead negotiator of the Paris Agreement before introducing and successfully defending the legislation that establish a carbon price across Canada. As Minister of Infrastructure and Communities, Catherine made investments in public transit and green infrastructure.
Before politics, Catherine worked as a competition and trade lawyer and served as a senior negotiation with the UN mission in East Timor. She has a Bachelor of Arts from the University of Toronto, a Masters degree from the London School of Economics, and a law degree from McGill University.
*Only one registration required per household.