Description
To celebrate International Women's Day on March 8th, join JCI Dublin and some of Ireland's most inspirational females for a panel discussion on what it takes to get to the top.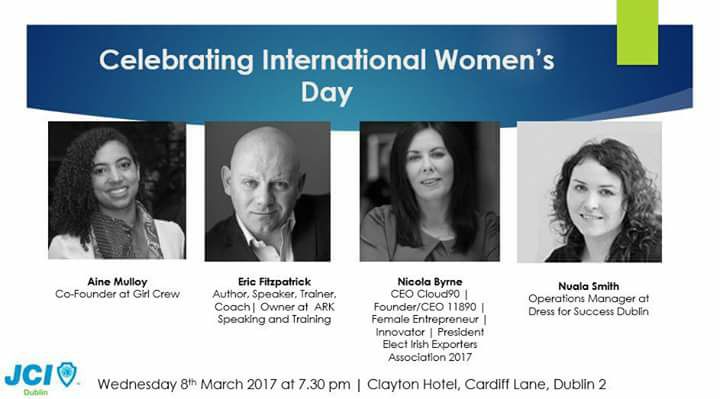 Who will be there?
Nicola Byrne founder of the Cloud90.
Cloud90 is a digital monitoring service. We keep our eyes on online conversations about your brand, your competitors, and your staff and alert you, via SMS or email, when you need to get involved in the online discussion
Ever been stuck in on a Friday when you wanted to go out? Or wanted to go to a gig but couldn't find someone to go with? That's what Aine Mulloy created GirlCrew and it now has over 10,000 members.

Nuala Smith From Dress For Success
Nuala Smith is the Operations Director for Dress For Success Dublin. Since 2011, Dress for Success Dublin has supported over 1,400 women with the professional clothing, skills and development opportunities they needed to secure employment and achieve success.


Erik Fitzpatrick from Ark Speaking and Training
As well as launching his first book, Eric is a Sales Presentations Trainer, Executive Speaking Coach and Conference Speaker.
Booking Essential – Limited availability..
What's Happening?
A panel discussion with inspirational female leaders as well as advice on how you can work your way to the top.
Booking Essential – Limited availability.