Description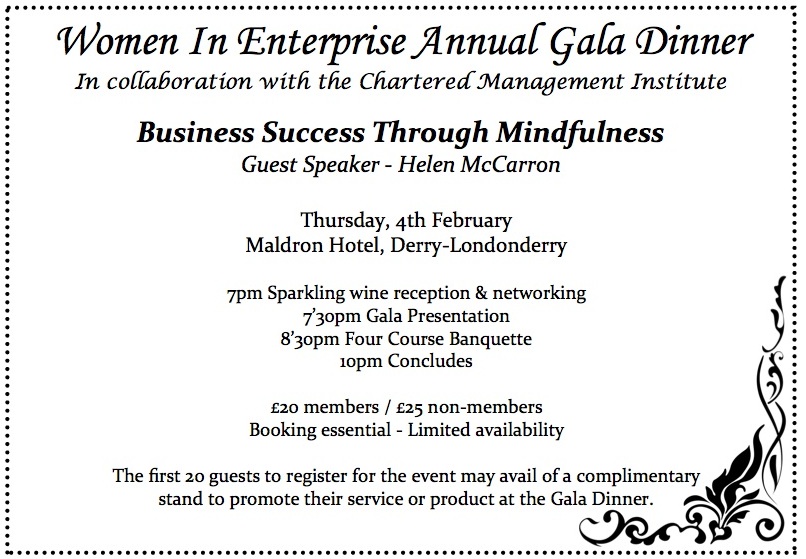 You are invited to the Women in Enterprise Annual Gala Dinner
In Collaboration with Chartered Management Institute
"Business Success through Mindfulness"
with Guest Speaker Helen McCrarren (see more below)
Thursday 4th February, Maldron Hotel Derry Londonderry
7.00pm: Sparkling Wine Reception& networking
7.30pm: Gala Presentation
8.30pm: Four Course Banquette
10pm: Evening Concludes
£20 members/£25 non-members
Booking Essential – Limited availability
The first 20 guests to register for the event may avail of a complimentary stand to promote their service or product at the Gala Dinner
Please visit www.womeninenterprise.biz of www.facebook.com/womeninenterpriseni
for further details on how to book etc
CMI (Chartered Management Institute) NW Ulster Branch is delighted to partner with and sponsor the WIE Mindfulness Event in combining our efforts to bring inspirational and informative networking opportunities that promises insight to self management and creative thinking.
Helen McCrarren a business woman, mindfulness teacher and mother of five experiences first hand the many challenges facing today's business world. Helen trained with some of the leading experts in mindfulness, including Jon Kabat Zinn and has since established her own business, Mind Body Energy Matters. She believes that the skill of mindfulness makes juggling family life and running a business more manageable. She is an inspirational speaker on how mindfulness rewires the brain for clarity creativity and calmness. Find out more about her on www.mindbodyenergymatters.ie
Organiser of Women in Enterprise Gala Dinner
About Women In Enterprise:
Women in Enterprise is a member based business networking organisation based in Northern Ireland, covering Derry~Londonderry / Limavady and the general North West. We provide peer to peer support, signposting, networking events, business growth workshops and learning events.  WIE is a non-profit organisation run by a committee of volunteers who are dedicated to providing support for women in this area, whether self-employed, an employer or an employee. All women are welcome to join our organisation...
For more information: www.womeninenterprise.biz