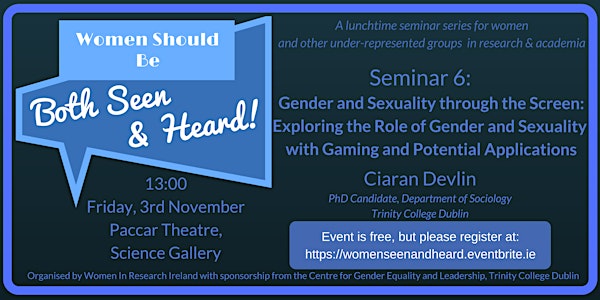 Women Should Be Both Seen and Heard Seminar 6
When and where
Location
Paccar Theatre, Science Gallery Trinity College 1 College Green Ireland
Description
Historically, when one thinks of the military or armed forces, one instantly associates it as both literally and ideologically masculine and heteronormative. But throughout history, there have been countless 'others' (women and LGBTQ+ personnel) who made up an invaluable part of armed forces worldwide; and by and large their efforts are seldom recorded and seldom remembered. Until recently, and even today there are restrictions (both formal and informal) that regulate and restrict participation of these individuals, from gendered occupational ideologies to the previously official policy of 'Don't Ask, Don't Tell' in the United States.
One of the principle rationales behind restrictions on sexualities within armed forces lies with the belief that 'non-normative' sexualities will inhibit or adversely affect cooperation, morale and effectiveness of units. While the rationale for gender regulation includes arguments that women are born to create life, not take it. But what about within peacekeeping forces? Some have argued that peacekeeping, as a process, turns many of these arguments on their head, and represents an interesting area to explore the role of regulation and conflict within the cultures of the armed forces.
In what way can we address these issues and problematise current realities? Ciaran Devlin, a PhD Candidate in Sociology working on the Gaming for Peace (GAP) project, has taken on the task of exploring and understanding the current reality of gender and sexuality within peacekeeping practices in European contexts, specifically within participating militaries, as well as exploring potential means of solving these issues, in this case through the use of digital games.
In his talk, he will be exploring the ways in which gender and sexuality are present within games and gaming, how is gender made visible, how are sexualities made visible? How and do these representations share broader similarities within the context of armed forces, and in what way can digital games help us to understand and inform the everyday experiences of people within armed forces?
The event will take place in Paccar Theatre, Science Gallery, Trinity College Dublin. The entrance to the Science Gallery can be accessed from Pearse St campus entrance, with the Paccar Theatre entrance on the first floor of the building, up the stairs. There are fully functional elevators also for ease of access. There are accessible toilet facilities in the building. If you have any additional accessibility requirements (ISL interpretation, etc.), please notify us in advance at womeninresearchireland@gmail.com.
This seminar is an inclusive, QUILTBAG (queer and questioning, intersex, lesbian, transgender and two-spirit, bisexual, asexual and ally, and gay and genderqueer) friendly space.
All are welcome. We look forward to meeting you there!