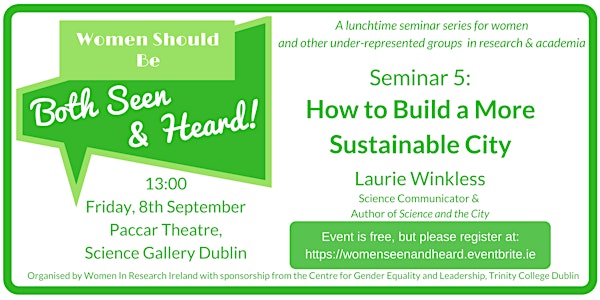 Women Should be Seen and Heard - Seminar 5
By Women in Research Ireland
Date and time
Fri, 8 Sep 2017 13:00 - 14:00 IST
Location
Science Gallery Dublin Pearse Street Dublin 2 Ireland
Description
With more than half the world's human population now living in cities, we can rightly call ourselves urbanites. Our cities have never been bigger, busier or more important to society. But that doesn't always mean that they 'work' as they should.
Our guest speaker for this seminar Laurie Winkless, explores the mechanics behind the metropolis in her book, Science and the City, by taking readers on a whistle-stop tour of urban landscapes across the globe. In this talk, she'll discuss the key things we need to consider to build better and more sustainable cities for all. From low-carbon power to smart flood defences, Laurie argues that science and engineering offer many of the solutions to the problems facing our cities... but only if we're willing to invest in them and to change some of our behaviour.
Alongside this, she'll talk about the challenges of communicating complex topics to the general public, and her own experience as a woman in STEM.
Laurie Winkless is a physicist and writer, currently based in Wellington NZ. Following a degree at Trinity College Dublin, a placement at NASA's Kennedy Space Centre, and a masters in Space Science at UCL, Laurie worked at the UK's National Physical Laboratory, specialising in materials. Thermoelectric energy harvesting – where heat is captured and converted into electricity – was her bag, and remains a favourite topic of conversation.

Laurie has been communicating science to the public for more than a decade, working with schools and universities, the Royal Society, Forbes, and the Naked Scientists, amongst others. She's given TEDx talks, hung out with astronauts and Nobel Laureates, and appeared in The Times magazine as a leading light in STEM. Science and the City is her first book, and she is currently working on her second, called Sticky.
Seminar will last approx. 30 minutes, after which there will be time for questions and chat. As this is a brown-bag event, all attendees are welcome to bring along their lunch, while tea and coffee will be provided.
The event will take place in Paccar Theatre, Science Gallery Dublin. The entrance to the Paccar Theatre is located on the first floor, and the Science Gallery is easily accessible from Pearse St campus entrance. There are accessible toilet facilities in the building. If you have any additional accessibility requirements (ISL interpretation, etc.), please notify us in advance at womeninresearchireland@gmail.com.
This seminar is an inclusive, QUILTBAG (queer and questioning, intersex, lesbian, transgender and two-spirit, bisexual, asexual and ally, and gay and genderqueer) friendly space.
All are welcome. We look forward to meeting you there!

About the organiser
Women In Research Ireland is a group for women and other under-represented groups in research and academia in Ireland.
We aim to organise events that are accessible and inclusive:
We will provide physical access information about the venue on the event registration page. If you have additional access requirements (such as Irish Sign Language interpretation), please let us know at womeninresearchireland@gmail.com in advance of the event you wish to attend and we will try to facilitate these to the best of our ability.
All are welcome to our events and we do not tolerate discrimination based on sexuality, ethnic/cultural background, ability, socio-economic status, or any other characteristic. We strive to ensure that our events are always inclusive friendly spaces. 
If you have any suggestions or feedback, or if you would like to get involved in future events (to help organise, or to volunteer as speaker) just get in touch! We would love to hear from you.