Description
WOMENS EMPOWERMENT SUMMIT 2017
There are absolutely no limits to what you can achieve, especially when you're equipped with the right tools, the right attitude and the right plan! At the Women's Empowerment Summit you will learn from leading experts who will give you the direction, the clarity and the focus you need to achieve your goals, and you will network with like-minded women who have similar goals to you. If you want to improve your life or business, this is the event to be at!
SPEAKERS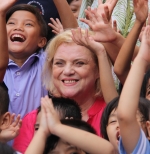 CHRISTINA NOBLE
Christina Noble OBE, is an exceptional, inspiring person. She has by her own effort and example and with an unselfish willingness to serve, shown the world that street children are a vital part of humanity – that the abuse and maltreatment suffered by children can be stopped. By providing love, and by giving back dignity to over 700, 000 of these special children and their families in Mongolia and Vietnam. she has shown us that they can become empowered to fulfil their proper role in society. They can, and will be their countries future.
Since 1991 Christina Noble and her foundation have established over 120 projects/programmes in Vietnam and Mongolia. Today the work of the foundation impacts more than 20,000 children and their families annually.
Born in Dublin, Ireland, in 1944; daughter of Thomas and Anne Byrne.
Christina Noble is a child of the impoverished Liberties of Dublin during the 1940's – 1950's. Christina endured a childhood of loss, isolation and tragedy. After the early death of her mother, was separated from her five siblings and committed to an abusive state institution. Christina escaped several times and fled to England, only to find herself in a trapped and destructive marriage.
In 1971 Christina had a dream that eighteen years later would lead her to Vietnam, to begin work amongst the forgotten street children (Bui-Doi – Dust of Life) of Vietnam. The children lived in appalling poverty and conditions but Christina committed to making a positive difference in their lives and refused to give up on them. This often required her to work in dangerous areas but her desire to help these children surpassed the struggles presented to her.
In 1991 the Christina Noble Foundation was established. It has since provided free medical care to over 6000 street and abandoned children per year and free education for hundreds of street children. Recognising the dangers on the streets of Ho Chi Minh City, and seeing the need to change the children's attitude towards gangs, violence, drugs and prostitution, Christina also built a purpose built emergency residential shelter for young boys. She later set up a sponsorship programme, worked with prison authorities to launch a prison education project and has established many other much needed changes in the lives of disadvantaged children, Her work is truly amazing.
In 1992 Christina was officially acknowledged for her contribution to humanity and awarded the Medal of Peace and Humanity. She later received the Paul Harris Fellowship Award by Rotary International, The Hearts of Gold Award by the British Broadcasting Corporation. and the medal for The Ministry of Labour, Invalids and Social Affairs. In 1977 she was voted one of the top 20 inspirational women in the world by Harpers and Queen UK.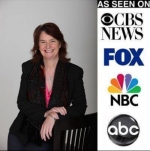 TRACY REPCHUCK
Tracy Repchuk is a global powerhouse:

7 Time International Bestselling Author including 31 Days to Millionaire Marketing Miracles from Wiley Publishing

Currently serving on the Forbes Coaching Council.

World-renowned speaker in over 35 countries including Keynote in China at Global Leaders Economic Summit for presidents, heads of state and CEOs for technology.

Award winning entrepreneur, writer and speaker since 1985 at the age of 19 when she started her software company including awards from Senate, Assembly, and the White House Presidential Award from President Obama.

Pioneer on the internet developing brands, websites, SEO and now social media since 1994.

Featured expert in over 22 National and Local TV as a trusted resource for technology, internet and social media including ABC, NBC, CBS, FOX and appeared in 3 motivational movies.

Global leader serving thousands of clients around the world to develop a fully branded end to end website presence so they can professionally match, rise above the competition, and reach millions with their message.

DONNA KENNEDY
Donna Kennedy is a three-time bestselling author, with The Confidence to Succeed being her most recent release. She is a qualified psychologist, life coach, business coach and mentor. Her academic work has been published nationally and internationally by various faculties, including The American Journal of Psychology and The Irish Psychological Record. She has been endorsed by world leading organisations and has worked with many personal development leaders, including Bob Proctor (The Secret), Mark Victor-Hansen (Chicken Soup for The Soul), Brian Tracy (CEO of Brian Tracy International and bestselling author of 77 books), Sharon Lechter (Think and Grow Rich for Women and Rich Dad, Poor Dad), Lorel Langemier (The Secret), Anthony Robbins Foundation etc. Donna regularly features in national and international media as an expert in the areas of personal and business development and several large organisations have used her material to market products and train staff.
Donna's life today is one of happiness, health and success. However, it wasn't always that way. At one point in her life her confidence was so low that she was afraid to cross the street on her own, as a result of several challenges. Incredibly, despite the challenges Donna endured, she has gone on to become what she is today and now she teaches people all over the world how to do the same.
Having learned from some of the world's greatest achievers, at age 23 she bought her first investment property and at age 28 she created her first company, turning over a €1,000,000 in the first year. Year-on-year she has gone from strength to strength and is impacting people worldwide with her fresh and unique approach. If you want better results in your life and business, pay attention to what this lady teaches.

"Listen to this girl, she knows what she's talking about!" - Bob Proctor (best-selling author and teacher in The Secret)
"You're going to thank me in your prayers for recommending her to you." - Mark-Victor-Hansen (Chicken Soup for the Soul book series)
"I am privileged to speak with such a great speaker as Donna Kennedy - Brian Tracy (bestselling author of 77 books)
"Donna is an extraordinary woman, an inspiration" - Pat Kenny, TV and Radio broadcaster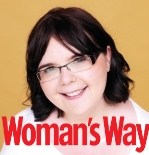 AINE TONER
Áine Toner is the award-winning editor of Woman's Way magazine, currently the Consumer Magazine of the Year (Irish Magazine Awards). She has worked for Woman's Way for a
decade and is also the editorial director for Irish Tatler Man. She has previously worked for national daily and regional newspapers and magazines plus BBC Northern Ireland. She contributes to television and radio shows and her particular love is books. Aine is an fantastic example of female creativity and leadership.
SILE SEOIGE
Síle is the youngest of four children, and grew up in the village of Spiddal in Connemara on the west coast of Ireland. She is fluent in Irish and has spent the past nineteen years working in the media industry, primarily as a Television and Radio broadcaster.Presenting and researching TV projects on all TV stations in Ireland; RTÉ, TV3, TG4 and Oireachtas TV in Entertainment, Daytime, Lifestyle, Factual, Young Peoples, Sports, Comedy, Weather and News and Current Affairs programming, and presenting and contributing on various radio stations from Newstalk 106-108, RTÉ Radio 1, iRadio, Beat 102-103 and Sunshine106.8. She also works as a voice over artist, event MC, singer, actor and writer. And in 2016 she added another string to her bow by becoming a certified yoga teacher.
Síle also has a particular interest in health and wellbeing and for good reason. In 2011 she was diagnosed with thyroid cancer, an experience that changed for life in every way.She had to accept that she may lose her voice as a result of the surgeries to remove the tumour and gland and as someone who makes a living from speaking this was a major wake-up call for her.Through the practice of yoga and becoming aware of her body on all levels; physically, emotionally and mentally, she has learnt to deal with the challenges she has been given, listen to her body and to appreciate the gift of living an authentic life. She will show you how you can too.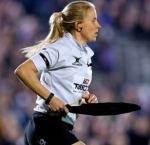 JOY NEVILLE
Joy is a former Irish rugby International captain, holding 70 international caps for 15's and 15 caps for 7's. She was part of the Six Nations Grand Slam winning side in 2013 - the first Irish team to achieve the feat.
She is now an International Rugby referee, becoming the first woman to officiate in several competitions, including the British and Irish Cup, and the first to referee an All-Ireland League Division One game. She holds 5 International referee caps and made European history to become the first women to officiate in the European challenge cup. She is the first Irish lady to referee in the HSBC 7's rugby World Series and she is the only woman on the pro 12 and pro 14 development panel of referees. And most recently, she refereed the rugby World Cup final!
Joy is a fantastic example of someone who has achieved the seemingly impossible. If you have goals and you're not quite sure how to make them happen, Joy will show you how.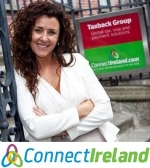 JOANNA MURPHY
The ConnectIreland Group encompasses three pillar organisations, ConnectIreland, Startup Ireland and the Irish Diaspora Loan Fund. Joanna Murphy is the Chief Executive Officer of the group, Director of ConnectIreland, Board Member and Director of the Irish Diaspora Loan fund. She holds a first class honours degree in business studies.
ConnectIreland began as a globally unique job creation initiative which emerged from the Global Irish Economic forum in 2011, and has been responsible for the creation of thousands of jobs.
The programme is internationally award winning and is recognised as a global exemplar of best citizen engagement with almost 100,000 connectors in 147 countries worldwide!
The mission of ConnectIreland originally was to mobilise the Global Irish community to introduce companies planning to expand to Europe to Ireland, however under Joanna's stewardship the initiative has morphed into a much larger inward investment promotion agency which seeks to encourage companies to establish in Ireland, expand to Ireland, or to invest in Ireland through the Irish Disapora loan fund, thereby creating employment, most particularly in regional Ireland.
Joanna's expertise is in inward investment and Irish economic development. She will show you how you can excel in a demanding role and achieve what you want in your life and/or business.

MC - Kelly K
Kelly is a well known radio presenter at Dublin City fm, presenting the show Upstarts
TRANSPORT
If you wish to attend the event but do not want to travel alone or perhaps you don't have transport, ladies from previous events have kindly organised buses to and from this event. You are most welcome to travel with them.
Areas covered are outlined below. If you wish to organise a bus from another area, please contact admin@wesummit.ie
Mayo-Dublin: Contact Paula Gibbons 086 3025192
Roscommon, Athlone and surrounding areas: Contact Catherine Macklin 086 8138526
Nenagh Tipperary and surrounding areas: Contact Martina Finnerty 087 6639188
*Ticket Cancellation Policy:
Please be aware that we do not accept cancellation of bookings for Womens Empowerment Summit events, as we make arrangements to support the number of places booked and incur costs that cannot often be recovered.
If you have booked a place at a Womens Empowerment Summit event and are no longer able to attend, please ask around your local community to see if another person wishes to attend in your place - we're happy for you to transfer your booking, and just ask that you let us know by emailing
admin@wesummit.ie